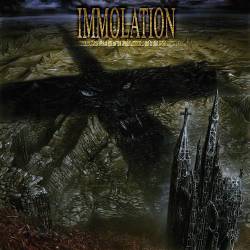 Dieu confirmé du deathmetal depuis la sortie des invincibles Failures for Gods et Close to a World Below, Immolation revient en cette fin d'année 2002 avec son cinquième blasphème en seize années de carrière. Entre temps, le bande des infatigables Ross Dolan et Robert Vigna affronte le départ du guitariste de longue date Thomas Wilkinson, remplacé au pied levé par Bill Taylor, transfuge de l'impitoyable formation floridienne Angelcorpse.
Le groupe quitte parallèlement son label Metal Blade, pour un nouveau contrat chez Olympic Recordings et Listenable, se partageant respectivement les licences outre atlantique et européenne. La signature chez le label français de Laurent Merle ne tient toutefois pas au hasard, ce dernier étant ami avec la formation depuis l'origine, ayant notamment organisé ses premiers concerts sur le vieux continent en 1990, quelques mois avant même la tournée mythique de Morbid Angel en compagnie de Napalm Death.
Immolation retourne ainsi en mai 2002 aux Milbrook Sound Studios en compagnie de Paul Orofino, pour les sessions d'Unholy Cult, muni d'une nouvelle illustration du maître Andreas Marshall (Messiah, Hate Eternal) et commercialisé dès le mois de novembre, dans les même temps que le destructeur Plainfield Cemetery de son homonyme suédois Deranged.
Unholy Cult débute sur le classique Of Martyrs and Men, s'ouvrant sur les guitares lancinantes de Robert Vigna, prélude au déluge rythmique d'Alex Hernandez, précieux soutien des riffs intraitables & entremêlés du duo Taylor / Vigna et des soli décharnés de ce dernier. Enfin, doit-on rappeler une fois encore la profondeur et la pureté du chant guttural de Ross Dolan ? L'arme fatale d'Immolation.
Puis, l'excellent Sinful Nature montre la facette d'un groupe plus direct, qui conserve toutefois cette même furie, tout en relançant impeccablement la machine, enchainant alors sur le titre éponyme saisissant, au riffing et au final tout aussi mémorables. Sans faiblir, le quatuor new-yorkais lâche ensuite des morceaux au savoir-faire indéniable, à l'image du middle tempo Reluctant Messiah ou du furieux A Kingdom Divided, sans que cette suite n'offre toutefois réellement de surprise en regard des précédents joyaux de la formation. Enfin Bring Them Down, au rythme tout d'abord effréné, calme le jeu dans sa seconde partie, laissant alors place aux pleurs de la guitare de Rob Vigna, le temps d'un final particulièrement poignant, dont Immolation possède le secret.
Sans révolutionner le style du quatuor, supportant parallèlement la lourde succession de deux disques cultes coup sur coup, Unholy Cult reste puissant et prenant, renfermant de surcroît une pureté et une noirceur brillamment conservées. Nouvelle gravure dans la carrière inattaquable de la formation new-yorkaise, Unholy Cult inscrit ainsi Immolation parmi les acteurs deathmetal incontournables de cet an de grâce 2002, aux côtés de ses compatriotes Origin, Nile, Hate Eternal et Internecine, qui bombardent dans les mêmes temps avec une précision et une intensité tout aussi manifestes.
Fabien.
5 novembre 2009