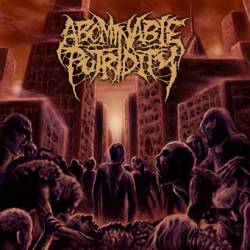 Formé à Moscou en 2003, une patrie où le death metal de qualité n'est pas forcément monnaie courante, Abominable Putridity obéit, comme son doux nom l'indique, aux codes du brutal death gore, principalement nord américain. Plus lourd que Condemned & Inherit Disease réunis, le quintette évolue en effet autour d'un death gras & putride, proche du slam death de ses homonymes états-unien Devourment & Cephalotripsy.
Réputé sur la scène, le groupe obtient un deal avec le label tchèque Lacerated Enemy, qui possède aujourd'hui des formations reconnues comme Condemned & Banishment, et apporte toujours un soin particulier à ses produits. Enregistré dans la capitale Russe en été 2006, In the End of Human Existence ne déroge ainsi pas à la règle du label, bénéficiant notamment d'une illustration réussie et sans équivoque de l'incontournable Jon Zig.
Dès l'intro du poétique Intercranial Parasite, Abominable Putridity fixe de suite son atmosphère suintante, annonçant l'imminence de ses rythmiques & riffs écrasants. Le groupe distille en effet un death particulièrement visqueux, sur une dominante middle tempo propice à des mosh parts inhérentes au slam death, dégageant ainsi un groove appréciable. Par ailleurs, à l'image du bon Intestinal Putrefaction, quelques blasts & accélérations bien dosés évitent de rendre le style trop asphyxiant, malgré sa lourdeur considérable.
En outre, depuis l'interlude pestilentielle Dissected from Within, jusqu'aux guttural dégoulinant du growler Vladimir, se situant entre les vocaux effroyables de Levi Fuselier (Disgorge US) et les déjections d'Angel Ochoa (Condemned), Abominable Putridity entretient un climat gore durant les 26 -courtes- minutes de son album, apportant dès lors une épaisseur accrue à l'ensemble.
Avec un groove et des harmoniques inhérents au slam death, Abominable Putridity surprend certes par son incroyable lourdeur, grâce à un accordage très bas, mais sans technique exceptionnelle, il reste toutefois trop conventionnel pour véritablement émerger de la masse et affirmer une pleine personnalité. Le groupe envoie en revanche un death de bonne qualité (fort bien enregistré au passage) et maîtrise bien ses ambiances, mais réserve aussi quelques passages déboulonnants, à l'image des mosh parts des bons Skin Removal & Sphacelated Nerves, qui combleront les amateurs de brutal death gluant, tout en collant irrémédiablement le disque à leur platine.
Fabien.
17 septembre 2008