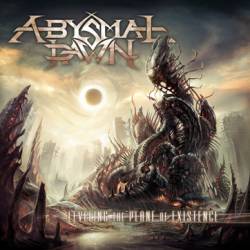 Déjà impressionnant sur From Ashes et impérial sur Programmed to Consume, Abysmal Dawn avait pleinement réussi le pari de proposer un deathmetal à la fois moderne et classique dans le fond, renfermant ce respect avoué pour le deathmetal des premières années tout en cultivant une vraie personnalité. Valeur quasiment sûre de l'écurie Relapse, le groupe connaît toutefois de nombreuses turbulences dès 2008, le guitariste / chanteur Charles Elliot affrontant le départ de Jamie Boulanger et Terry Barajas, se retrouvant désormais seul aux guitares, soutenu par le bassiste Mike Cosio et le batteur Scott Fuller, la toute nouvelle recrue.
Abysmal Dawn revient ainsi trois années plus tard avec son nouvel effort, enregistré en grande partie par l'ingénieur habituel Mike Bear et mixé par le désormais expérimenté Erik Rutan (leader d'Hate Eternal). Comme pour rassurer les fans et assurer une continuité avec les précédents efforts, le groupe reitère le choix de l'illustrateur Par Olofsson pour la mise en image de Leveling the Plane of Existence, où l'on retrouve notamment cette sphère noire commune à tous les albums de la formation californienne.
Leveling the Plane of Existence débute sur une introduction au piano d'une mélancolie inhabituelle, avant d'attaquer sur un Pixilated Ignorance dans la droite lignée des précédentes oeuvres du groupe, articulé sur un couple basse batterie solide, des guitares rondes & massives, et magnifié par le chant guttural de Charles Elliot toujours aussi reconnaissable, pur et profond. En passant ensuite par le bon In Service of Time ou le plus nerveux Rapture Renowned, Abysmal Dawn équilibre idéalement moments intenses, passages aérés et blast-beats plus furieux, sans toutefois parvenir réellement à se lâcher.
Bien que guidé par des lignes de guitares tout en finesse, techniques sans être démonstratives et éclatantes lorsque Charles Elliot entame ses soli, Leveling the Plane of Existence reste en effet finalement assez scolaire, Abysmal Dawn peinant à se renouveler et à se débrider. Les quelques tentatives pour sortir du cadre restent de surcroit en demi-teinte, à l'image du court interlude Our Primitive Nature aux percussions purement anecdotiques, ou du morceau final qui, malgré un départ original sur une pointe mélancolique à la manière du mémorable morceau Fallen de Reciprocal, monte laborieusement en puissance.
Si Leveling the Plane of Existence bénéficie d'une mise en place et d'une interprétation irréprochables, notamment grâce au talent indéniable de Charles Elliot, nous gratifiant de soli de toute beauté, il n'en reste pas moins un album assez académique dans la forme. En pilote automatique cette fois-ci, Abysmal Dawn joue ainsi globalement la carte de la sécurité et livre une oeuvre certes solide, parfois sensible, sans toutefois dégager la force ni retrouver pleinement le caractère de ses précédentes réalisations.
Fabien.
4 mars 2011