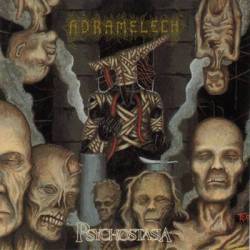 Liés par Seppo Taatila, Demigod et Adramelech connaissent une carrière parallèle, ayant tous deux débuté au tout début des années 90's. Mené par son leader Esa Linden, Demigod reste le premier des deux groupes à s'imposer, en lâchant l'illustre Slumber of Sullen Eyes en 1992, l'un des premiers albums de l'école deathmetal finlandaise, aux côtés de Yeah, Shadows from the Past, The Karelian Isthmus ou Member of Immortal Damnation (Xysma, Sentenced, Amorphis, Purtenance).
Mais, tandis que Demigod poursuit une carrière discrète malgré la grandeur de son premier album, Adramelech accroît quant à lui sa notoriété à coups de EP's, décrochant un contrat pour un album complet chez Repulse Records, le nouveau label de Dave Rotten, né des cendres au défunt Drowned Productions. Habitué aux fameux studios Tico-Tico (Impaled Nazarene, Belial, Demigod) depuis ses précédents EP, notamment le bon The Fall, le groupe mené par Seppo Taatila rejoint l'ingénieur du son Ahti Kortelainen entre 95 et 96, pour les sessions de Psychostasia.
A l'image de ses compatriotes de l'époque, Adramelech possède ce son typiquement finnois, largement façonné par Ahti Kortelainen, tout comme l'empreinte indélébile de son collègue Tomas Skogsberg en Suède. La batterie et les guitares bénéficient ainsi d'un son ample et profond, qui se démarque toutefois difficilement des précédentes réalisations issues des studios Tico-Tico. Outre la présence de Seppo Taatila au sein des deux formations, la comparaison entre Adramelech et Demigod est alors inévitable, mais aussi assez douloureuse.
En effet, malgré ses rythmiques parfaitement en place et son riffing incisif, à l'image Mythic Descendant, As the Gods Succumbed ou Across the Grey Waters, Psychostasia lâche une palette de titres moins marquants que l'incontournable Slumber of Sullen Eyes, sans parallèlement bénéficier de la profondeur des growls d'Esa Linden. Il suffit toutefois d'un morceau culte pour rendre l'album Psychostasia quasiment inoubliable, le fabuleux middle tempo The Book of the Worm, aux guitares acoustiques fines s'opposant à une double grosse caisse et une cascade de riffs particulièrement assassins, à écouter en boucle avec un plaisir non dissimulé.
Album typique du death lourd finlandais des nineties, sans toutefois faire avancer le style à grands pas, Psychostasia voit le jour durant une période difficile, où le deathmetal perd indéniablement du terrain face à une scène blackmetal semblant chaque jour plus inventive et plus puissante. Intrinsèquement, l'album renferme pourtant des compositions de qualité, dégageant désormais ce parfum old school délectable, tellement emblématique de son époque. Adramelech possède parallèlement l'atout imparable, l'invincible The Book of the Worm, morceau contenant à lui seul suffisamment de force pour clouer le bec de n'importe quel détracteur.
Fabien.
27 octobre 2009