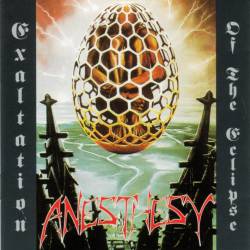 Si son voisin hollandais s'est très vite distingué au sein de la scène deathmetal européenne grâce à l'essor de Pestilence, Thanatos, Gorefest ou Sinister, la Belgique n'a quant à elle pas été particulièrement exposée durant les premières années du style. Sans compter Ancient Rites et son occulte The Diabolic Serenades que l'on peut rattacher au genre, il faut en effet creuser jusqu'à l'éphémère Blasphereion ayant sorti un unique album durant les jeunes années d'Osmose Productions, ou encore du côté des tout aussi méconnus Chemical Breath et Exoto, respectivement experts en deathrash technique et deathrash nerveux. Parmi ces premiers groupes belges, Anesthesy reste certainement le plus conventionnel, sans non plus sortir de l'ombre malgré un contrat pourtant alléchant chez Blackmark Productions.
Originaire de Flandres, Anesthesy se forme dès 1988, faisant figure de pionnier dans son pays. Il faut toutefois attendre 1994 pour que la formation affine son style et atterrisse chez Blackmark Productions (Edge Of Sanity, Seance, Fleshcrawl, Necrophobic, Cemetary, Necrosanct), sous licence de la petite structure belge Tessa Records (Exoto). Les efforts promotionnels fournis par le label suédois étant toutefois quasiment inexistants, le quatuor flamand ne décolle pas du fond de son catalogue, à l'instar des tout aussi mal logés Exoto ou Gomorrah. Il faut toutefois reconnaitre combien ce premier album baptisé Exaltation of the Eclipse n'apporte rien de franchement innovant au sein d'une scène deathmetal, qui commence sérieusement à ce mordre la queue en cette année 1994.
Si l'originalité n'y est pas, Exaltation of the Eclipse bénéficie en revanche d'une interprétation remarquable et d'un enregistrement tout aussi solide. Le martelage basse batterie impeccable de Chris & Diego et les guitares tout aussi carrées de Frank & Werner apportent beaucoup de corps aux compositions, contenant chacune leur lot de variations rythmiques, accélérations, riffs puissants et soli inspirés, bien que l'ensemble reste assez académique. Anesthesy livre ainsi plusieurs moments assez mémorables, pour citer le ralentissement et les soli puissants de The Ultimate Reincarnator, le début acoustique tout en finesse de Intestinal Haemorrhage, et bien sûr l'équilibre étonnant du morceau Beyond Sadness, qui s'acheve sur une lead mélancolique suivie de guitares en palm muting et de fines nappes de claviers, pour une accélération progressive jusqu'à sa fin.
Anesthesy, ou le quatuor des moustachus flamands, ne révolutionne donc pas le genre mais s'attache au contraire à livrer dans la grande tradition un deathmetal solide mâtiné de thrash, à dominante middle tempo, typique du genre au tout début des nineties. Sorti un peu tard et dans la plus grande confidentialité, Exaltation of the Eclipse devrait donc ravir les nostalgiques de cette époque, sans se hisser parmi les indispensables de leur discothèque bien fournie. On notera enfin la départ prématuré du growler Frank Libeert, emporté lors d'un accident en 1994, peu après la sortie du premier album. Paix à son âme.
Fabien.
19 août 2011