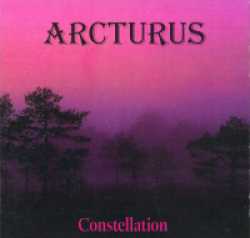 1990. Sur les cendres du groupe deathmetal Mortem, le jeune trio composé par Steinar Johnsen, Hellhammer et Marius Vold fonde l'entité blackmetal Arcturus (l'étoile la plus brillante de l'ensemble du Bouvier), la même année que la création d'Immortal et Satyricon, précédant de peu celle d'Emperor, Burzum et Enslaved. Le groupe ne tarde pas à mettre sur pied deux morceaux se retrouvant dès 1991 sur le EP My Angel, distribué par le petit label français Putrefaction Records (qui disparaitra dès l'année suivante et dont le stock servira de base à la création d'Adipocere !). Ces deux titres témoignent déjà de la démarcation d'Arcturus de ses autres collègues de la scène blackmetal du moment, puisque qu'avant tout pensés et articulés à partir du clavier de Sverd (Steinar Johnsen).
1994. Encore embryonnaire quelques petites années auparavant, la jeune scène blackmetal de Norvège attire désormais de nombreux regards, non seulement depuis les sorties d'A Blaze in the Northern Sky, du split-LP Emperor/Enslaved, ou encore de Dark Medieval Times, Pure Holocaust, Det Som Engang Var & De Mysteriis Dom Sathanas, mais aussi faute aux frasques extra-musicales de certains de ses jeunes acteurs.
Cette même année, Arcturus décide de graver en préversion quatre titres de son futur album, à partir d'une console 16 pistes dont aucune réservée à la basse. Baptisé Constellation et pressé à 500 exemplaires MCD sortis à la rentrée, dans les mêmes temps que l'invincible In the Nightside Eclipse d'Emperor, cet enregistrement paraît sur Nocturnal Art Productions, écurie naissante de Samoth (Emperor) qui deviendra rapidement un label de prestige. Le line-up quelque peu modifié renferme toujours l'âme d'Arcturus, à savoir notre pianiste Sverd accompagné d'Hellhammer à la batterie (qui officie également au sein de Mayhem), à laquelle s'ajoutent Garm au chant et Samoth en tant que guitariste de session.
Si beaucoup de détails relient ainsi Emperor et Arcturus, il en va de même pour leur réalisation conjointe de cette année 1994. Tandis que la majorité des formations blackmetal norvégiennes du moment mettent avant tout l'accent sur les guitares, nos deux groupes accordent quant à eux une place importante aux claviers, le premier afin d'acquérir une dimension symphonique, le second pour un rendu plus atmosphérique, mais dans les deux cas dégageant cette même noirceur et cette même majesté. Plus loin que les deux titres incontournables de son EP My Angel, Arcturus n'hésite toutefois pas à juxtaposer désormais un chant éraillé à des envolée au chant clair de toute beauté. A ce titre, si le timbre vocal de Garm reste parfois maladroit, il n'en demeure paradoxalement que plus juste.
Il ne suffit ainsi que du fabuleux titre d'ouverture Rodt og Svart pour plonger de suite dans l'ambiance envoutante de Constellation. Les rythmes de batterie riches et puissants d'Hellhammer, le riffing entêtant de Samoth, la magnificence des claviers de Sverd, forment une osmose d'une grâce et d'une profondeur peu communes, support idéal au chant authentique et saisissant de Garm.
Impossible de résister ensuite une seule seconde aux imparables Icebound Streams and Vapours Grey et Naar Kulda Tar, guidés par les claviers impériaux de Sverd et les plaintes de Garm, renfermant cette même force d'attraction. Le titre final Du Nordavind clôt enfin Constellation sur une note plus théâtrale, annonçant déjà les prémices d'un ton baroque et grandiloquent qu'Arcturus maîtrisera à la perfection quelques trois petites années plus tard. Une fois encore, les lignes de piano de Sverd laissent béat, notamment au coeur de ce somptueux morceau.
A l'instar d'Emperor en cette année 1994, bien moins brutal que son confrère toutefois, Arcturus parvient ainsi à toucher la magie du bout des doigts, à partir d'un enregistrement n'ayant initialement et paradoxalement qu'une faible prétention. Bien que les quatre titres du mini-CD soient intégralement réenregistrés sur l'album Aspera Hiems Symfonia paru en 1996, le groupe n'y parvient qu'à recréer partiellement ces instants de magie pure, conférant à Constellation toute son immortalité.
Fabien.
6 novembre 2010