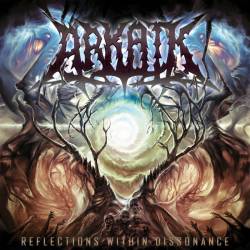 Difficile aujourd'hui de percer au sein d'une scène brutaldeath désormais saturée par un nombre incalculable de formations sans technique ni personnalité. Fort heureusement, quelques écuries parviennent encore à extraire de cette jungle les groupes plus ambitieux, au potentiel certain. A ce titre, Uniqueleader compte parmi ces labels possédant une vision juste de la scène et un flair indéniable, soignant la majorité de ses réalisations. L'une de ses dernières signatures se nomme Arkaik, jeune groupe issu des terres californiennes si prolifiques en brutaldeath technique de qualité.
Arkaik se forme en 2004 autour du guitariste Chance Strickland et du growler Jared Christianson, nourrissant l'ambition de créer un deathmetal aussi brutal, riche que novateur. Après un premier album n'étant hélas jamais parvenu jusqu'à mes oreilles, et stabilisant parallèlement son line-up, le groupe décroche ainsi ce fameux contrat avec l'écurie d'Erik et Jacoby, le conduisant aux SeahorseSound Studios courant 2009 pour les sessions de son second full lenght. Bénéficiant en plus d'un mastering aux désormais célèbres 16th Cellar Studios transalpins, ainsi que d'une illustration du prisé Par Olofsson, le bien nommé Reflections Within Dissonance, aux propos intelligents, paraît dès ce début d'année 2010, dans des temps relativement proches du remarquable Thee Arcane Progeny de son homonyme Sarcolytic.
Débutant par une intro fine et puissante, Reflections Within Dissonance enchaine sur son titre éponyme mêlant riffing incisif, plans architecturaux, harmoniques et soli de qualité. Le couple basse batterie impeccable de la paire Roylance / Cohen offre un terrain idéal aux rythmiques précises de Strickland et aux leads inspirées de Peters, les deux guitaristes possédant des jeux aerés et très complémentaires. Les très bons Paradigm et Womb of Perception montrent en outre toute la force de l'album sur sa durée, possédant de nombreux trésors de subtilités, qui maintiennent le deathster en haleine au fil de l'avancée.
A ce titre, bénéficiant d'un mixage clair, les nombreuses parties en sweeping du bassiste sont particulièrement bluffantes, à l'image des passages délectables d'Obscured Luminosity ou Face of Regression, haussant la technique globale de Reflections Within Dissonance de quelques crans. Toutefois, malgré le travail minutieux apporté à chacun des morceaux, ces derniers peinent à se détacher pleinement les uns des autres, les growls monocordes de Jared Christianson manquant parallèlement de singularité.
Se calant dans un concept musical et spirituel proche de Decrepit Birth, Severed Savior et Odious Mortem, Arkaik manque encore d'identité pour s'imposer aux côtés des leaders de la scène brutaldeath ouest américaine. Reflections Within Dissonance reste toutefois un effort remarquable, désarmant par sa richesse, le soin de sa mise en place et la qualité de son interprétaton. Sortie notable de ce début 2010, d'une durée de vie plus que conséquente, l'album s'adresse ainsi sans problème aux deathsters les plus exigeants.
Fabien.
20 avril 2010