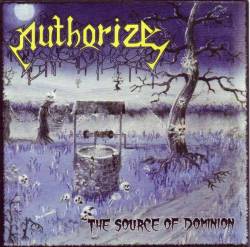 Si la période 89/90 représente avant tout la consécration du deathmetal grâce au soutien de quelques labels comme Roadrunner ou le culte Earache Records, l'année 1991 est davantage associée à l'explosion du style, supporté par de nombreuses petites écuries émergeant aux quatre coins du globe. De nationalité française, ayant grandi dans les mêmes temps que Thrash ou Infest Recs, Putrefaction Records fait partie de ces petits labels ayant tenté de s'épanouir au sein de la scène extrême, mais ayant connu une existence relativement éphémère.
Spécialisé dans la production de vinyles 45t, notamment à l'origine du culte My Angel des norvégiens d'Arcturus, Putrefaction Records n'a ainsi sorti qu'un seul CD durant sa brève existence, le premier et unique album du groupe de deathmetal suédois Authorize, initialement formé à l'automne 1988 sous le nom de Morbid Fear.
Débutant sa carrière au coeur de la scène thrashmetal, Authorize alourdit progressivement son style sous l'influence d'Entombed et de Therion pour converger vers ce deathmetal si sombre et si puissant des deux formations. Sous l'impulsion de son batteur Micke Swed, le groupe rejoint les F.S. Studios dès janvier 1991 pour les sessions de The Source of Dominion, son premier et unique album. Le quintette évite ainsi une énième production aux Sunlight Studios de Stockholm, mais ressort toutefois avec un son sans personnalité particulière, suffisamment lourd mais manquant globalement d'épaisseur.
Intrinsèquement, si le jeu de batterie de Micke Swed s'avère relativement technique, il manque en revanche de rapidité, confinant The Source of Dominion dans un rythme en middle tempo manquant de parties franchement fracassantes. Parfois incisifs mais conventionnels et souvent répétitifs, les riffs et soli de Larssa Johansson & Jorgen Paulsson ne parviennent pas non plus à apporter suffisamment de mordant aux différents morceaux de l'album, qui peinent alors à se distinguer pleinement les uns des autres.
The Source of Dominion dégage toutefois une ambiance de mort globalement bien entretenue, grâce à son riffing lourd, ses nombreux ralentissements, ou encore ses quelques nappes de claviers qui assombrissent l'atmosphère, à l'image du titre Broken Hypnonis d'un équilibre remarquable ou encore du bon Within The Obscurity of Tormention. Thomas Ek complète enfin ce tableau d'outre tombe avec des vocaux d'un guttural manifeste, à l'opposé de sa coupe iroquoise et de ses cheveux verts qui lui donnent cet air punk sans aucun rapport avec son type de chant et l'appartenance foncièrement deathrash d'Authorize.
Sans talent ni personnalité particuliers, Authorize s'ajoute ainsi aux nombreuses formations deathmetal débarquant en cette année 1991 avec un premier album sans forte identité se fondant rapidement dans la masse, considérant en plus les moyens promotionnels fort limités de son label. Si The Source of Dominion ne bouscule ainsi aucunement l'ordre établi en cette période d'une concurrence impitoyable, il reste néanmoins une oeuvre qui supporte relativement bien le poids des ans, dégageant ce souffle authentique et désormais old school d'une fragrance toujours plus délectable.
Fabien.
29 décembre 2010