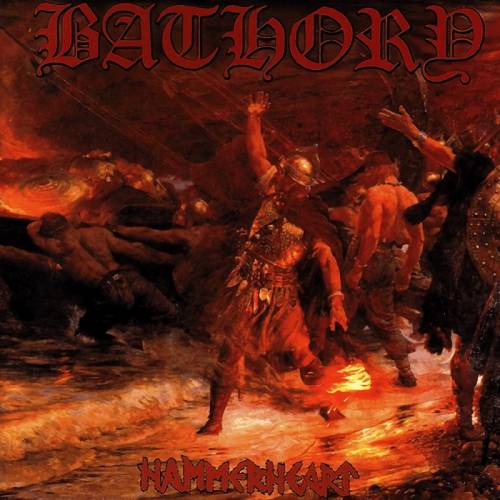 Durant l'été 1989, Quorthon est de retour aux Heavenshore Studios de Stockholm en compagnie de l'ingénieur du son Boss, pour l'enregistrement de son cinquième album, alors que la majorité des groupes extrêmes n'en sont qu'à leurs balbutiements. Notre mastermind est de nouveau accompagné de Vvornth et Koothar, tout du moins crédités en tant que batteur et bassiste sur le livret de l'album.
Toujours produit par le label Blackmark Productions de Borje Forsberg (le père de Quorthon), Bathory bénéficie cette fois d'une distribution Noise International sur le territoire européen, en lieu de place de l'écurie Under One Flag pour les quatre premiers albums. Nous étions encore quelques mois avant que Blackmark ne vole de ses propres ailes et réédite toutes les oeuvres à son compte. Hammerheart paraît ainsi en juin 1990, assorti d'une peinture de Sir Frank Dicksee, « A Vikings Last Journey », succédant brillamment à « La Chasse Sauvage d'Odin » de Peter Nicolai Arbo.
Comme le morceau éponyme de l'incontournable Blood Fire Death pouvait le laisser entendre, Bathory s'éloigne du black et du thrashmetal des ses débuts, renforçant notoirement le côté atmosphérique et épique de ses compositions. Outre une musique moins violente et plus aérée, la principale évolution de Bathory réside dans le chant clair de Quorthon, ayant quasiment abandonné les vocaux noirs d'Under the Sign of the Black Mark ou le chant arraché de Blood Fire Death.
Le bruit des vagues, symbolisant la sépulture en feu d'un chef viking livré à la mer, ouvre Hammerheart et s'enchaine sur un passage acoustique et le chant posé de Quorthon, avant que le ton ne se durcisse avec l'arrivée massive du couple basse batterie de Vvornth & Koothar et des guitares saturées du leader. Le rythme reste toutefois middle tempo et la musique dominée par un chant ethéré et par la présence de choeurs, qui confèrent une dimension très épique durant les onzes minutes du morceau. Enfin, Si le chant clair de Quorthon reste perfectible, il n'en reste finalement que plus authentique, donnant ce parfum de terroir si naturel.
Sensiblement moins longs et plus durs, notamment dans le chant plus rageur de Quorthon, Valhalla et Home From Once A Brave lancent quelques riffs purement thrash à l'auditeur, tout en le plongeant au coeur des épopées viking, renouant en partie avec les ambiances dures de Blood Fire Death et renfermant une force intérieure peu commune. Toujours dirigé par ses choeurs, son véritable fil conducteur, Hammerheart s'enchaine alors sur des Baptised in Fire and Ice et Father to Son plus planants mais tout aussi poignants, sans compter sur la superbe ode acoustique Song to Hall Up High.
Il fallait alors un hymne de choix pour clore ce brillant hommage à la culture nordique, l'imparable One Rode to Asa Bay, le premier clip de Bathory (diffusé sur M6 !) et le morceau le plus atmosphérique & le plus heavymetal de l'oeuvre, dix minutes durant lequelles la qualité de la mise en place et de l'interprétation laisse béat malgré une technique assez simple, un titre où les émotions se succèdent, renfermant en son sein un solo des plus saisissants.
Tour à tour guerrier et serein, comme pour conter les expéditions viking et le retour à la terre, Hammerheart possède avant tout une âme et donne ce sentiment de plenitude, se nourrissant du folklore et de la mythologie nordique, véhiculant des valeurs fortes comme la paternité ou le respect de ses morts. Catalogué comme album de vikingmetal dès sa sortie, à défaut de pouvoir le ranger dans quelconque étiquette, tant il emprunte à la fois au thrash ou au heavymetal, le cinquième album de Quorthon marque ainsi une évolution importante dans la carrière de Bathory, se posant comme l'album déclencheur d'un genre qui ne cessera de prendre de l'ampleur quelques années plus tard.
Fabien.
6 octobre 2010