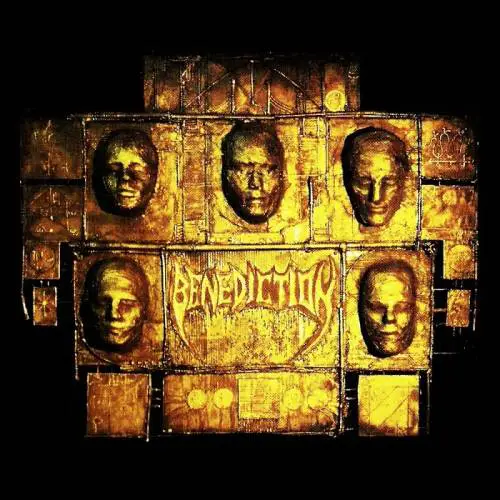 Suite au terrible Transcend the Rubicon, Benediction reprend le chemin des Rhythm Studios en février 1995 pour les sessions de son quatrième album, en compagnie du jeune Neil Hutton, remplaçant de Ian Treacy derrière les fûts. Fidèle à son label, le groupe sort le nouveau The Dreams You Dread sous l'étiquette Nuclearblast, au mois d'août de cette même année.
The Dreams You Dread s'ouvre sur le très bon Down Of Whore, débutant sur un acoustique rapidement soutenu par les guitares lourdes de Darren & Peter, sur un rythme résolument middle tempo. La suite de l'album confirme un ton sage et lourd, loin des ambiances sombres et pesantes de The Grand Leveller, ou des rythmes rapides et écrasants de Transcend the Rubicon. Mais, malgré quelques titres de très bonne facture comme When Flies ou Denial, les morceaux ont néanmoins du mal à décoller, s'engluant dans une relative mollesse et linéarité.
Par ailleurs, les growls de Dave Ingram certes puissants, manquent toutefois d'une certaine conviction, renforçant dès lors la monotonie de l'opus. Enfin côté production, le travail de Paul Johnston demeure exemplaire, dotant The Dreams You Dread d'un son ample et clair, mais enfermant en contrepartie Benediction dans un trip trop prévisible, alors que ce dernier aurait certainement gagné à se renouveler.
Proposant un The Dreams You Dread trop poussif et peu ambitieux, Benediction rate le coche pour son quatrième album. Ne réussissant dès lors pas à convaincre, le quintette britannique subit lui aussi la désaffection de nombreux deathsters lassés par la stagnation du deathmetal, au profit des scènes black et progressives autrement plus inspirées à cette époque. The Dreams You Dread propose néanmoins un deathmetal pur aux compositions à la qualité intrinsèque indéniable, lui permettant de traverser sans problème l'épreuve du temps.
Fabien.
20 septembre 2007