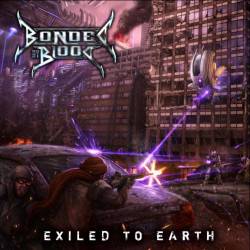 A l'image de Warbringer ou Evile l'an passé, de nombreux jeunes groupes issus du revival thrashmetal proposent désormais leur second album, après des débuts prometteurs mais encore trop scolaires. C'est le cas de Bonded By Blood en ce mois d'août 2010, de retour chez le label mythique Earache Records, désormais sans grandes formations deathmetal en son catalogue, excepté les norvégiens de Blood Red Throne encore présents dans ses rangs.
Bonded By Blood revient cette année avec un concept album, contant l'invasion de la terre par une race alien déterminée à dominer la race humaine, fort bien mis en image par Raid Southen. Le groupe californien s'offre parallèlement les services de l'ingénieur du son Ralph Patian (connu par ses prestations pour des formations telles que Megadeth, UFO ou White Wizzard), bénéficiant d'un enregistrement à la fois puissant et suffisamment incisif.
Le très bon 600 AB ouvre idéalement ce nouveau Exiled to Earth, débutant sur un passage acoustique suivi d'un mur de guitare tout en puissance. Le rythme devient alors tantôt tapageur ou entrainant pour le meilleur effet, renfermant un solo magnifique en son coeur, assurément une des grande force de l'album. Les parties leads éclatent en effet régulièrement au fil des morceaux, leur donnant beaucoup de corps, sans compter ces mosh-parts à foison, si emblématiques d'Anthrax ou plus récemment de Municipal Waste, qui apportent le relief demandé.
A l'image du bon Episodes of Aggression aux accélérations fracassantes, du titre éponyme et de Sector 87 particulièrement entrainants, ou encore du fabuleux Desolate Future divinement calibré, Bonded By Blood maîtrise bien son sujet, lâchant un thrashmetal nerveux, débordant de l'entrain si vital dans le style. En revanche, le résultat reste encore académique et manque véritablement d'identité, tant le groupe s'évertue à retrouver les codes du genre établis durant les années 80.
Plus abouti et plus personnel que son prédécesseur, à l'instar des derniers albums d'Evile et Gama Bomb montrant des formations en progression constante, Exiled to Earth s'impose comme une oeuvre de qualité au sein de cette scène revival thrashmetal actuelle. Il manque encore au jeune Bonded By Blood ce zest de personnalité pour vraiment faire la différence, bien que le groupe semble se diriger sur les bons rails. Il reste toutefois la voix éraillée de Jose Barrales, un brin irritante, faut-il l'admettre. En revanche, ces duels de soli entre Alex Lee et Juan Juarez, quel bonheur !
Fabien.
30 septembre 2010