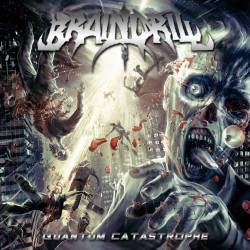 Si son premier album Apocalyptic Feasting avait inscrit directement Brain Drill parmi les formations brutaldeath californiennes les plus dangeureuses techniquement, on pouvait en revanche avoir quelques craintes quant à l'avenir de la bande de Dylan Ruskin, qui perdait simultanément son batteur Marco Pitruzella et son basssite Jeff Hugell, deux atouts très précieux. Notre mastermind ne tarde toutefois pas à trouver de sacrés remplaçants dans les personnes de Ron Casey et Ivan Munguia, fin prêts à réinvestir les fameux Castle Ultimate Studios de Zack Ohren (Decrepit Birth, Odious Mortem) dès le début d'année 2010.
Paru en mai chez Metal Blade Records, dans les même temps et le même label que le Path of Fire des suédois d'Aeon, le bien nommé Quantum Catastrophe est assorti d'une terrible illustration de Par Olofsson, si représentative du brutaldeath cataclysmique de Brain Drill, le perforateur de cerveau.
Il suffit au quatuor du seul titre d'ouverture Obliteration Untold pour assoir son style, débutant sur un sweeping désarmant d'Ivan Munguia à la basse, qui annonce le déluge de gravity-blasts de Ron Casey et le riffing furieux de Dylan Ruskin. La dextérité et la technique du guitariste impressionnent une fois encore, sans compter son jeu désormais immédiatement identifiable, s'emballant régulièrement dans des sweeping ou soli de folie, ou encore dans un phrasé musical volontairement dissonant mais tellement maîtrisé. Enfin l'alternance entre le guttural profond et les vocaux éraillés de Steve Rathjen complète idéalement cette tornade de chaque instant.
En outre, là où Apocalyptic Feasting pouvait parfois rebuter par son brutaldeath pied au plancher et son déballage technique omniprésent, Quantum Catastrophe équilibre davantage moments de pure folie et passages offrant de véritables repères au deathster, évitant son ensevelissement sous une avalanche de notes et un enchevêtrement riffs de tout instant. Le break de l'impitoyable Awaiting Imminent Destruction, ou encore le final tout en lourdeur de Nemesis of Neglect, cassent ainsi le rythme et épaississent judicieusement l'atmosphère. Et que dire du dernier morceau éponyme, dix minutes (hors outro) qui pourraient pourtant paraître imbuvables dans un style aussi rapide et technique, mais défilant pourtant avec une fluidité étonnante.
Plus personnel, également plus digeste que son prédécesseur, mais tout aussi fou, Quantum Catastrophe impressionne par la violence de ses rythmiques et la technique irréprochable de ses interprètes. Dès son second album, Brain Drill parvient ainsi à affirmer toute sa singularité mais aussi à aérer et équilibrer davantage ses morceaux, histoire d'accroitre dangereusement le nombre de ses victimes. Il faut toutefois rester un adepte de ce brutaldeath high-tech sans pitié, pour pouvoir apprécier pleinement ce redoutable Quantum Catastrophe.
Fabien.
14 juin 2010