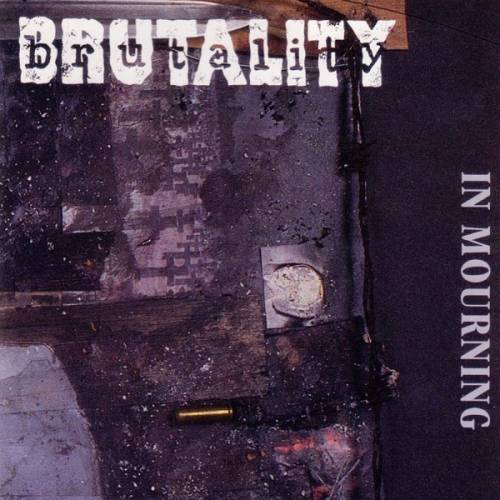 Brutality présente en cette année 1996 ses deux nouveaux guitaristes, avec d'un côté Dana Walsh, qui signe non seulement la moitié des nouvelles compositions avec Jeff Acres, mais enregistre aussi toutes les guitares rythmiques et la quasi intégralité des soli, et de l'autre Peter Sykes, intégré quant à lui un brin trop tard pour participer aux sessions de février, aux Morrisound Studios. In Mourning, troisième album de la formation, sort ainsi en août de la même année, pour le compte de la fidèle écurie Nuclear Blast.
Délaissant son logo et ses gargouilles stéréotypés, Brutality change de braquet en imposant un nouveau concept, notamment au niveau l'emballage de son CD, dans un boîtier orange transparent. Mais, contrairement à son image plus actuelle, le groupe floridien ne bouge pas sa musique d'un iota, balançant invariablement son death US, situé entre Monstrosity et Malevolent Creation, en apportant toutefois quelques touches délicieuses à la Disincarnate, grâce à la qualité des très nombreux soli de Dana Walsh.
En outre, In Mourning bénéficie d'une excellente production de Jim Morris, claire et épaisse, permettant la pleine expression des rythmiques carrées du duo Coker / Acres, des guitares précises de Walsh, et de la voix très puissante Scott Reigel. L'album démarre ainsi sur les chapeaux de roue, avec un Obsessed d'anthologie, suivi de l'excellent The Past. Malheureusement, malgré de très bonnes surprises ultérieures, à l'image du redoutable Subjected To Torture, l'album devient rapidement linéaire, proposant non seulement des compositions bâties sur le même schéma, mais renonçant aussi aux habituels interludes acoustiques, qui conféraient pourtant une atmosphère plus particulière aux précédents albums.
Terriblement conventionnel, Brutality ne rencontre dès lors qu'un succès limité en cette année 1996, à une période critique, dominée par la désaffection progressive du public pour le death métal. Au delà de son manque d'innovation, In Mourning impressionne pourtant par sa qualité inattaquable, balançant un concentré de 47 minutes de rythmiques chirurgicales et assassines, s'illustrant ainsi aux côtés de Vile, Millenium ou Eternal (Cannibal Corpse, Monstrosity, Malevolent Creation), parmi les bons exports floridiens de l'année.
Fabien.
24 décembre 2007