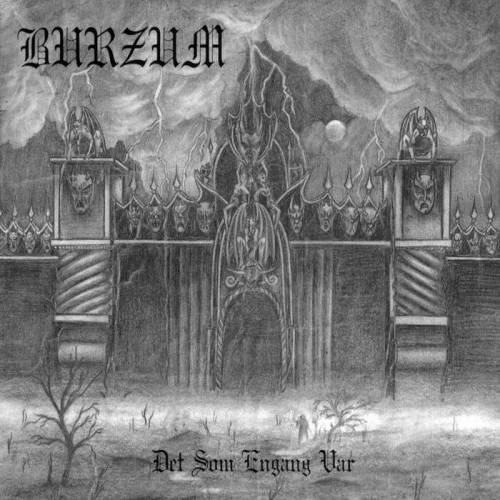 Si la scène extrême norvégienne a également vécu au rythme du deathmetal à la fin des années 80, de nombreux protagonistes, sous l'influence notoire d'Oystein Aaarseth (Mayhem), reprennent très tôt le flambeau d'une scène blackmetal née de l'héritage de Sodom, Bathory ou Sarcofago. C'est le cas des membres de Darkthrone qui noircissent considérablement leur style dès A Blaze in The Northern Sky, mais aussi de Olve Eikeimo et Varg Vikernes, anciens acteurs du groupe deathmetal Old Funeral, fondant respectivement les entités Immortal et Burzum.
Multi instrumentiste, Varg Vikernes est quant à lui particulièrement prolifique durant ses jeunes années, croisant le chemin des fameux Grieghallen Studios pas moins de quatre fois entre janvier et septembre 1992, pour la mise en boite de ses trois premiers albums et du EP Aske. Si le disque éponyme sort rapidement chez le label Deathlike Silence Productions d'Oystein Aaarseth (en mars 1992 à très faible tirage), l'affaire traine en revanche en longueur pour les réalisations suivantes, faute à une gestion laborieuse du label.
Ces problèmes financiers s'ajoutant à une tension idéologique déjà forte entre les deux hommes entrainent leur séparation, conduisant le jeune leader de Burzum à sortir lui-même son second album (Cymophane Productions), mais également à commettre l'irréparable. En effet, tandis que Det Som Engang Var est commercialisé en août 1993, soit un an et demi après sa capture, Varg, déjà pris dans la spirale de la violence, franchit le même mois un pas qui coute la vie à son nouvel ennemi, et le privera quant à lui de quinze années de liberté.
Det Som Engang Var sort ainsi dans un contexte très particulier, à l'heure où la Norvège connait des remous sans précédent, secouée par les activités incendiaires et criminelles de quelques protagonistes issus du milieu blackmetal du pays. Pour la première fois, les actes dépassent les propos nihilistes et anticléricaux de ces jeunes acteurs, accroissant la noirceur et la radicalité du style, et apportant une dimension réelle, au-delà des qualités mêmes de la musique.
Si seulement trois mois séparent l'enregistrement de Det Som Engang Var de son prédécesseur (l'album éponyme et non le EP Aske), les compositions de Varg Vikernes ont pourtant gagné en clarté. Les rythmes et le riffing restent certes toujours basiques, mais l'articulation des morceaux, l'équilibre global de l'album et l'atmosphère qui s'en dégage sont davantage maîtrisées.
Débutant par une longue introduction plongeant directement l'auditeur dans l'abîme, Det Som Engang Var s'enchaine sur un Key to The Gate aux rythmes tapageurs, supportant le riffing furieux de Varg et ses cris parmi les plus arrachés du moment, trahissant l'esprit tourmenté du leader. Mais très vite, le tempo ralentit, le chant criard de Varg se mue alors en de véritables plaintes, tandis que ses guitares s'adoucissent pour libérer des leads touchantes et mélancoliques jusqu'à la fin du morceau, tout en conservant cette noirceur si caractéristique.
Si Lost Wisdom possède un climat proche du premier titre, chargé de riffs et de leads poignantes, sur les gémissements du leader, En Ring Til Aa Herske et Snu Mikrokosmos Tegn dégagent en revanche une atmosphère plus mystique. Les lignes de guitares percutantes et répétitives se marient régulièrement avec des claviers noirs et envoutants, les deux morceaux trouvant l'apogée en leur milieu, lors des passages terriblement prenants dont Varg détient le secret, ces moments où la batterie décroche pour laisser l'entière expression aux guitares et aux cris décharnés du leader.
Enfin, si l'interlude guitaristique Nar Himmelen Klarner s'intègre bien à l'ensemble, permettant à l'auditeur de reprendre ses esprits avant de replonger dans les abysses, l'instrumental ambiant Han Som Reiste, aux lignes de piano redondantes durant cinq minutes, devient quant à lui rapidement ennuyeux, représentant à mon sens le seul point dispensable de l'album.
Loin d'un axe basé sur la technique et la qualité de la production, Det Som Engang Var privilégie avant tout la profondeur de ses atmosphères, n'ayant que peu d'équivalent dans le style. En cette année 1992, au delà de ses frasques extra-musicales mémorables, Varg Vikernes réussit ainsi à créer une magie durant ses différentes sessions d'enregistrement, façonnant ses premières oeuvres en les reliant par cette même noirceur et cette même mélancolie, qualités si représentatives de l'esprit de Burzum.
Fabien.

3 mai 2010