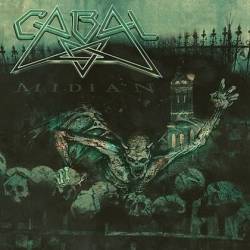 Formé dans l'état de l'Ohio en 1984 par Frank Pucci, Necrophagia figure parmi les premiers groupes extrêmes, aux côté de Death ou Repulsion, à exploiter ouvertement des thèmes de gores et d'horreur, directement inspirés par les films ou la littérature de l'époque. Peu après l'enregistrement de Season of the Dead en 1987, le groupe se sépare et Frank fonde quelques années plus tard Cabal, tirant son patronyme du livre de Clive Barker, et adoptant un style deathrash et une image horrifique dans la droite lignée de son ancien groupe.
Composé de Rob & Paxton au couple batterie/basse, de Dave & Mark aux guitares et de Frank au chant, officiant tous au sein de Killjoy, Cabal enregistre son premier et unique album en 1990, pour le compte du label Red Stream qui avait déjà produit Season of the Dead. L'album est baptisé Midian, la ville où les monstres évoluent dans le livre de Barker.
Si la ressemblance entre Season of the Dead et Midian est évidente, les deux albums étant articulés autour de rythmiques simples et dégageant des relents similaires, l'effort de Cabal reste toutefois bien plus percutant. Il contient non seulement une lourdeur supplémentaire qui rapproche cette fois notoirement la bande de Frank Pucci des sphères deathmetal, mais aussi un riffing accrocheur qui manquait souvent sur le linéaire Season of the Dead.
Si les passages rapides ne représentent pas forcément le point fort de Midian, lui donnant un côté thrashy manquant globalement de lourdeur, ils font en revanche ressortir les nombreux passages lents ou middle tempo riches en double pédale, terrains propices à quelques rafales de riffs ou accélérations fracassantes, tout droit sorties d'un Master, d'un Slowly we Rot ou d'un To the Gory End (Master, Obituary, Cancer). La simplicité des riffs et des soli confère justement toute l'efficacité des morceaux, basés sur une attaque frontale imparable, à l'image du riffing redoutable d'Images in Blood ou des rythmiques remuantes du titre éponyme.
Le climat s'épaissit en outre sur God Complex et le dyptique Khaos Theory / Noctural Reign, qui troublent quant à eux l'atmosphère lors de leurs passages acoustiques sombres et inquiétants. Sans technique ni dextérité particulières des interprètes, le titre final bénéficie ainsi d'une articulation judicieuse, jonglant entre instants d'accalmie, rythmiques agressives et accélérations assassines, tout en entretenant habillement cette ambiance menaçante.
Bien moins connu que Necrophagia ou encore Killjoy, l'autre projet d'époque de Frank Pucci, Cabal a effectivement eu une existence très éphémère, ne comptant qu'un seul et unique album au compteur, flanqué de moyens promotionnels quasiment inexistants. Surfant entre death et thrashmetal, le chant de Frank étant notamment davantage arraché que profondément guttural, Midian demeure pourtant un album de qualité, plus lourd et plus percutant qu'un Season of the Dead parfois surestimé du fait de sa sortie en 1987. La concurrence était toutefois bien plus féroce en cette terrible année 1990, à l'image d'ogives telles que Deicide, Left Hand Path ou Harmony Corruption (Deicide, Entombed, Napalm Death) particulièrement destructrices.
Fabien.
14 janvier 2011