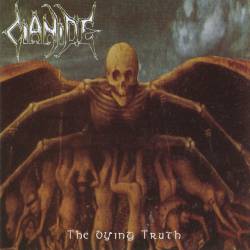 Dans cette course impitoyable au deathmetal au début des nineties, de nombreux labels ont tenté de mettre sur orbite des formations n'ayant hélas jamais dépassé le cap d'un, voire deux albums. L'écurie Grindcore International, qui possédait notamment de nombreuses licences Deaf Records sur le territoire nord américain, fait justement partie de celles ayant lancé des groupes comme Afterlife, Victims of Internal Decay ou Paralysis rapidement disparus du circuit après un unique album. On peut toutefois retenir la découverte par le label du gang de Chicago Broken Hope, auteur de cinq albums dont les fameux The Bowels of Repugnance et Loathing, mais aussi son voisin Cianide encore en place aujourd'hui, et ce depuis l'année 1988.
Formé autour des infatigables Mike Perun et Scott Carroll respectivement bassiste / growler et guitariste, Cianide rejoint ainsi après deux démos le team Grindcore International, à l'occasion de son premier album The Dying Truth mis en boite dans un studio local. Le disque paraît en 1992, année particulièrement riche en sorties deathmetal, après un cru 1991 d'une richesse et d'une qualité exceptionnelles.
Hier comme aujourd'hui, le deathmetal de Cianide se caractérise par une lourdeur toute particulière, avec les rythmes monolithiques du batteur (Jeff Kabella pour l'occasion), l'accordage très grave des guitares de Scott Carroll, et enfin le guttural caverneux de Mike Perun, donnant à l'ensemble cette saveur deathdoom si singulière. Le trio de Chicago n'est en effet pas un adepte du blast-beat, se calant majoritairement entre des rythmes middle tempo et pachydermiques, façon 38 tonnes.
Dès l'ouverture de The Dying Truth par le titre Mindcrape, en passant par The Suffering ou Crawling Chaos, Cianide fixe ainsi de suite une ambiance de plomb, lâchant un riffing tout en épaisseur. On peut en revanche regretter sur ce premier jet des morceaux qui tendent à une certaine ressemblance, faute à des lignes de guitares souvent similaires. Le mur impressionnant de guitares se heurtent également à une caisse claire qui reste globalement assez creuse, alors qu'une profondeur supplémentaire aurait été bienvenue de ce côté-ci.
Cianide n'est toutefois pas ici pour faire dans la dentelle, le trio s'attachant avant tout à écraser au maximum sans la moindre accélération, hormis quelques passages plus nerveux ou carrément tapageurs pour citer le plus furieux morceau Human Cesspol. Déjà, on peut noter combien le groupe s'attache à délivrer un deathdoom d'une pureté exemplaire, hermétique à toute forme de mélodie ou d'influences externes en dehors de ses styles de prédilection. Et c'est justement cet acharnement à rester foncièrement underground, déjà fortement palpable sur The Dying Truth, qui contribue à la forte identité de Cianide, au-delà du son et du jeu de guitare de Scott Carroll immédiatement identifiable.
Loin de toute démonstration technique ou d'accélération fracassante, Cianide lâche ainsi un premier album rouleau compresseur destiné à aplatir le plus de deathsters, et ce jusqu'au morceau final Second Life à la fin d'une lourdeur incroyable. The Dying Truth lance ainsi honorablement la machine deathdoom de Chicago, qui gagnera en efficacité dès son second album grâce à un riffing bien plus redoutable, mais tout aussi pur et écrasant.
Fabien.
3 février 2011