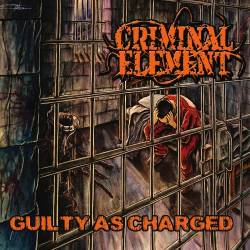 Criminal Element se forme à New York en 2001 sous l'impulsion du chanteur Vince Matthew, ex-membre de Dying Fetus. Loin de compter des manchots parmi ses membres, le groupe voit ainsi défiler un nombre prestigieux d'interprètes, permanents ou simple guests, tels que Hobbs, Mullen ou Cincotta, issus de formations telles que Suffocation ou Catastrophic. Lors de l'enregistrement de Guilty as Charged en cette année 2008, outre son noyau dur composé de Matthew, Boyer, Morris, Kloeppel & Jarvis, membres actuels ou anciens de Suffocation, Misery Index ou Dying Fetus, le groupe aligne en plus des invités tels que Gallagher, Netherton & Voyles, réunissant notamment le line up actuel complet de Misery Index !
Avec de telles références, Criminal Element place donc la barre très haut pour son premier album, décrochant un contrat parallèle entre Sevared Records & Lacerated Enemy, respectivement aux Etats-Unis et en Europe. Guilty as Charged existe donc en deux versions, avec deux pochettes différentes, la version européenne de Lacerated Enemy comprenant en plus deux reprises d'Exciter & Carnivore en guise de bonus, exécutées par Doug Bohn (ex-Suffocation) derrières les fûts.
Criminal Element pratique ce death nerveux & contestataire, teinté de hardcore, initié par Napalm Death (période Harmony), Solstice (US) ou Crusher, et brillamment repris par Dying Fetus & Misery Index quelques années plus tard. Les compositions de Matthew & Morris sont ainsi très rentre-dedans, bâties autour d'une assise rythmique imparable de Jarvis & Boyer, solide & précise, supportant les riffs percutants du duo Kloeppel / Morris, le guttural particulièrement hargneux de Matthew, et les backings furieux de Gallagher / Netherton, à l'image des entrainants Blood Money & Future Felon, qui déclenchent inconsciemment ce plaisir associé à des headbangs incontrôlés.
La force de Guilty as Charged réside parallèlement dans son ancrage indéniable dans un brutal death, lâchant une série de riffs complexes & nuancés, se superposant impeccablement, à l'instar des rafales délivrées sur les excellents Shots Fired, Habitual Offender ou Suicide by Cop, lui conférant dans ces moments cette touche à la Effigy of the Forgotten (Suffocation) particulièrement jouissive.
Parfait compromis entre la complexité du death brutal et le percutant du hardcore grind, fluide et brillamment interprété, Guilty as Charged ravira sans conteste les amoureux des derniers missiles de Dying Fetus & de Misery Index, et aussi de Suffocation. Sans posséder encore le charisme des groupes précités, Criminal Element dégage ainsi une allure et un caractère déjà fortement marqués, mais possède parallèlement une maîtrise & une technique inattaquables, le hissant parmi les outsiders sujets à un avenir plus que prometteur.
Fabien.
19 novembre 2008