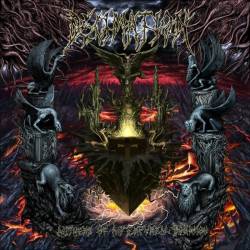 Depuis l'infatigable Cenotaph n'ayant pas encore réussi à me convaincre, la scène brutaldeath turque n'a pas franchement à rougir ces dernières années, emmenée par des formations comme Decaying Purity et Carnophage d'une technicité et d'un savoir-faire indéniables. Formé en 1999, Decimation fait justement partie de ces formations prometteuses, remarquée suite à la parution de son premier album Entering the Celestial Ruins par le label nord américain Comatosemusic, concurrent direct des écuries Uniqueleader et Sevared Records spécialisées dans ce style brutal si stéréoypé. En effet, parmi la diarrhée de signatures proposées par les labels de cet acabit, difficile d'extraire le bon grain de l'ivraie, car en plus d'une personnalité souvent absente, les qualités intrinsèques ne sont pas forcément au rendez-vous.
Lassé ces derniers mois par ces clones brutaldeath se mordant la queue, j'ai pourtant été conquis dès les premiers contacts par le second album de Decimation, le bien nommé Anthems of an Empyreal Dominion. J'ai retrouvé la rythmique écrasante d'un Recounts of Disembodiment (Beheaded), l'incision du riff d'un Extermination of Millions (Inveracity) et la technique savoureuse d'un Supreme Authority (Kataplexia), sans cette soupe slamdeath aux grognements porcins caricaturaux. Autant dire que, malgré une empreinte Suffocation-like évidente, le groupe turque possède de sérieux atouts pour convaincre.
Ouvert par une introduction idéale, Anthems of an Empyreal Dominion démarre sur les chapeaux de roue à coups de Sardonic Equilibrium et Peripheral Profiglacy impeccablement en place rythmiquement, toujours fluides et sacrément bien ficelés, bénéficiant de tous les riffs, accélérations et contretemps nécessaires pour un plaisir d'écoute renouvelé et jamais ennuyeux. Decimation touche à mon sens le sommet de son art sur l'invincible morceau Nocturnal Chaos, six minutes dominées par cette opposition entre blast-beats foudroyants et une décélération centrale sans pitié, suivie d'une sacrée montée en puissance maîtrisée par les guitares tranchantes d'Emre & Erkin. Malgré une fin d'album ne faiblissant ni en technique ni en sauvagerie, on peut toutefois regretter que notre quintette ne parvienne pas à se réinventer suffisamment, nous lâchant quelques terribles Summoning the Hordes et Gospels in the Exile tout aussi brutaux et subtils, mais peinant à se détacher.
Plus technique que Decaying Purity et plus furieux que Carnophage, Decimation est à ce jour la formation brutaldeath turque m'ayant le plus renversé. Mes écoutes d'Anthems of an Empyreal Dominion se multiplient sans que mon plaisir ne s'altère, grâce à cette authenticité et cette technique qui ne se démentent point au fil du temps, sans occulter un enregistrement clair & équilibré nécessaire pour la lecture d'un style aussi rapide & complexe. Si le manque d'identité reste le point d'ombre du gang d'Ankara, sachons donc nous satisfaire devant sa force de composition et d'interprétation.
Fabien.
18 avril 2011