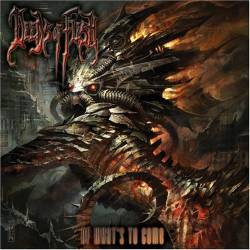 Depuis le bon Mark of the Legion paru en 2001, Deeds Of Flesh avait habitué l'oreille du deathster à un certain surplace, Crown of Souls, dernier album en date sorti en 2005, n'échappant pas à la règle. Une absence prolongée de trois années, mais aussi le départ de Jacoby Kingston, frère d'arme d'Erik Lindmark depuis les débuts du groupe, laissaient de plus transparaitre quelques craintes quant à l'évolution de la formation, l'une des pionnières du brutaldeath californien aux côtés de Sepsism, mais désormais sévèrement concurrencée par ses imparables voisins nommés Severed Savior, Odious Mortem, Decrepit Birth ou Brain Drill, poussant la précision & la technique toujours un peu plus loin, notamment durant ces trois dernières années.
Rebondissant sur le départ de Jacoby (toujours co-associé du label Unique Leader), Erik décroche le jackpot en recrutant non seulement un second guitariste talentueux, en la personne de Sean Southern, mais en embauchant parallèlement au côté de son batteur Mike Hamilton l'incroyable Erlend Caspersen, l'un des tous meilleurs bassistes actuels de la scène deathmetal, qui s'impose aujourd'hui en véritable prince, au sein de formations incontournables telles que Blood Red Throne, Vile & Spawn Of Possession.
Le sang frais apporté porte ainsi ses fruits, Deeds Of Flesh parvenant à se renouveler, tout en conservant son identité. Le couple basse batterie d'Erlend & Mike fonctionne en effet à merveille, Erlend apportant une assisse rythmique et une technique en tout point remarquables, comme ses parties désarmantes sur Dawn of the Next. L'apport de la guitare de Sean apporte parallèlement beaucoup de nuance au jeu d'Erik, qui prenait hélas la fâcheuse habitude d'enregistrer seul toutes les partitions de grattes. Décidément inspiré et bien dans ses baskets, le nouveau duo enchevêtre et superpose adroitement ses riffs, à l'image des bons Eradication Pods & Virvum, ou du titre éponyme, multipliant parallèlement les pointes techniques et les soli subtils, à la manière des derniers missiles d'Odious Mortem & Decrepit Birth.
Enfin, pour ne rien gâcher, Of What's to Come bénéficie d'un enregistrement possédant enfin le relief & clarté espérés, deux caractéristiques manquant bien souvent dans les précédentes productions de Deeds Of Flesh. Toutefois, l'album manque encore de breaks réellement marquants, ou encore d'interludes, qui auraient permis l'apport d'une coloration accrue et d'une véritable atmosphère, en complément de sa technique imparable.
Parfaitement mis en valeur par l'illustrateur Raymond Swanland, à qui l'on doit notamment la pochette du dernier Ob(Servant) de Psycroptic, Of What's to Come n'est peut-être pas encore la réalisation culte de Deeds Of Flesh, mais impose en revanche une puissance et une profondeur qui le hissent sans conteste comme l'album enfin attendu depuis plusieurs années, permettant au groupe de se relancer judicieusement, et de lâcher avec fierté sa septième réalisation, entièrement dédiée à la scène brutaldeath underground.
Fabien.
17 novembre 2008