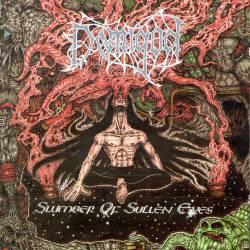 Demigod se forme en 1990 autour du guitariste / hurleur Esa Linden et du batteur Seppo Taatila, à une période où le deathmetal finlandais reste encore embryonnaire. Après plusieurs démos, dont une pressée sur split-EP par Seraphic Decay Records avec ses homologues de Necropsy, le groupe attire l'attention de Dave Rotten, boss du jeune label espagnol Drowned Productions (devenu Repulse, puis Xtreem), qui lui offre ainsi son premier contrat.
Composé en quasi intégralité par Esa Linden, Slumber of Sullen Eyes impressionne par la qualité de ses morceaux, à l'image du superbe titre d'ouverture As I Behold I Despise, parfaitement équilibré. Agrémenté d'un très bon instrumental (Perpetual Ascent), ou encore de nappes de claviers utilisées avec parcimonie sur Apocryphal et le génial Tears Of God, le disque contient en outre nombre d'éléments apportant beaucoup de coloration au deathmetal imposant de la formation, sans le rendre mélodique pour autant.
Demigod est vraiment solide, le talentueux Seppo Taatila possède un jeu de batterie complexe et millimétré, à la double pédale écrasante, apportant une assise rythmique remarquable au couple de guitaristes. De plus la voix d'Esa Linden, d'un guttural très profond, est en accord parfait avec la puissance instrumentale dont l'album bénéficie. Enfin, pour ne rien gâcher, Slumber of Sullen Eyes est enregistré par le célèbre Ahti Kortelainen (Impaled Nazarene, Belial), qui offre au groupe une production béton, avec un son à la fois lourd, clair et très typé.
En cette année 1992, parmi formations deathmetal finlandaises telles que Amorphis, Belial, Convulse, Disgrace, Phlegethon, Purtenance, Sentenced ayant chacune sorti un LP ou un MLP, Demigod s'illustre ainsi avec une réalisation remarquable, au deathmetal lourd et massif, mais aussi chargé d'une grande finesse et bénéficiant d'une vraie force d'interprétation. Slumber of Sullen Eyes fait partie des albums qui aurait certainement mérité une meilleure distribution, pour s'imposer définitivement à l'époque.
Fabien.
20 juillet 2007