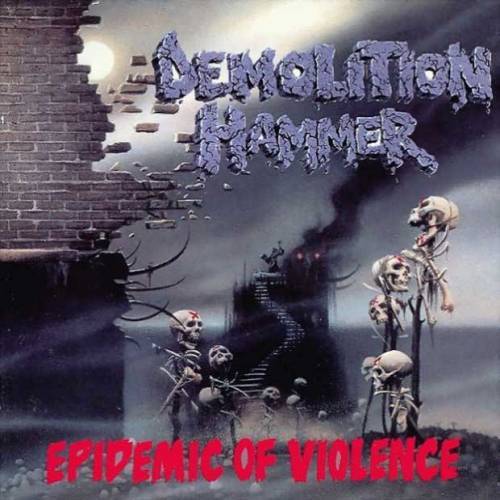 Tandis que le deathmetal subjugue la scène extrême depuis la fin des eighties, incitant nombre de formations à alourdir considérablement leur style, Demolition Hammer semble également suivre le mouvement en cette année 1992, à l'image de la pochette sans équivoque de son nouvel album (cette superbe illustration 'Lovecraft's Nightmare' de Michael Whelan dont on retrouve une autre partie sur Cause of Death d'Obituary), ou encore des tee-shirt de Malevolent Creation & Napalm Death fièrement arborés par ses membres. Mais contrairement aux apparences, le quatuor new-yorkais reste ancré dans le thrash death caractéristique de Tortured Existence, son premier album sorti deux années auparavant.
Demolition Hammer lâche ainsi son thrash rapide et corrosif, dominé par les martèlements de Vinny Daze, les riffs déchirants du couple Reilly / Sykes, et les vocaux écorchés de Steve Reynold. En revanche, Epidemic of Violence ne possède pas le son massif et les chants gutturaux propres au deathmetal, bénéficiant par ailleurs d'une production de Tom Soares (succédant au travail de Scott Burns sur le précédent album) certes agressive, mais manquant parallèlement d'une certaine lourdeur.
Au-delà, la technique et la maîtrise globale d'Epidemic of Violence restent fichtrement impressionnantes, permettant la mise en place de morceaux aussi précis qu'efficaces, où se succèdent riffs meurtriers, accélérations renversantes et soli endiablés, à l'image du redoutable Skull Fracturing Nightmare (tiré de sa première démo) ou d'Aborticide, se situant dans l'exacte lignée de Tortured Existence.
Oscillant adroitement entre les styles thrash et deathmetal, Demolition Hammer revient ainsi avec un Epidemic of Violence brillamment exécuté, mais également sans surprise et légèrement moins marquant que son premier effort. Pourtant, malgré ses qualités intrinsèques indéniables et le soutien de son label Century Media, le quatuor new-yorkais peine à convaincre en cette année 1992, évoluant dans un style confiné dans l'ombre prédatrice du deathmetal, qui domine sans partage la scène extrême du moment.
Fabien.
4 février 2008