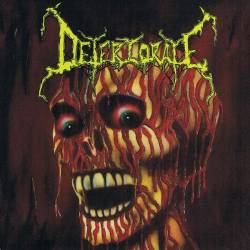 Parfois connue pour être mauvaise payeuse, l'écurie états-unienne JL America aura eu une vie somme toute éphémère centrée sur les années 92/93, le temps de lancer quelques seconds couteaux redoutables comme les deathsters de Morpheus Descends, Killing Addiction et Nokturnel. L'histoire ne retient en revanche guère quelques signatures plus anecdotiques qui complètent le catalogue du label, comme celles des deathrashers de Vicious Circle ou des porto-ricains primitifs d'Organic Infest, et dans notre cas présent de Deteriorate.
Originaire de l'état de Pennsylvanie tout comme Rottrevore ou le groupe Derketa de Sharon Bascovsky, Deteriorate se forme autour des guitaristes / compositeurs Joe Gorski & Frank Ierovante, sous influence directe des ténors du deathmetal nord américain. Après une unique démo en 1992, adoptant la forme classique du quatuor, la formation se dirige dès juin 1993 dans un petit studio local et signe parallèlement un contrat avec notre écurie américaine, se concluant par la parution de son premier album Rotting in Hell durant le second semestre, assorti d'une pochette tout à fait détestable.
Avec une telle illustration et des titres comme Cannibal Autopsy ou Decomposed Anatomy, inutile d'aller chercher midi à quatorze heures pour cerner le concept musical et spirituel de Deteriorate, nageant en plein deathmetal et propos gores. Les morceaux Agonized Display et Years of Anguish ouvrent honorablement le bal (des horreurs), montrant une formation rythmiquement bien en place et réservant quelques riffs sympathiques, sans toutefois faire preuve ni de technique ni de génie notoires.
Deteriorate peine en revanche à accélérer, s'enfermant alors assez vite dans des plans tapageurs & middle tempo chargés en double pédale, sans avoir cette capacité à se dépasser et lâcher un deathmetal vraiment fracassant. Bien que l'on puisse citer au détour un bon Beyond the Grave, Rotting in Hell manque ainsi globalement de dynamisme et devient rapidement monotone, linéarité que le growler Mike Trush ne parvient pas à briser, faute à un chant guttural sans profondeur ni attaque particulières.
Rotting in Hell reste ainsi une oeuvre qui, sans être déplaisante, ne contient pas vraiment de moments forts, au deathmetal bien trop scolaire comparé aux standards de l'époque pour espérer quelconque émergence. Suivant la mode du moment, Deteriorate changera ainsi rapidement son fusil d'épaule pour surfer sur la vague blackmetal en pleine déferlante, avec un peu plus de succès cette fois-ci, le temps de la sortie de The Senectuous Entrance en 1996, avant sa séparation définitive dans l'indifférence quasi générale.
Fabien.
7 février 2011