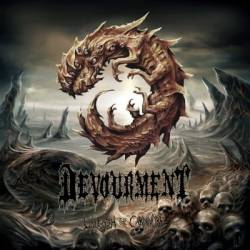 Initiée par Mortician au début des années 90, la scène slamdeath trouve son appellation et sa toute signification sous l'essor du groupe texan Devourment en 1999, lors de la parution de l'effroyable Molesting the Decapitated. Le slamdeath possède la particularité d'une violence rythmique de tout instant sur un accordage de guitare extrêmement bas, supportant des vocaux graisseux à outrance, parfois proches du grognement porcin, sur des paroles gores souvent bêtes et méchantes.
Le concept caricatural du style, le groove qui s'en dégage, notamment lors des fameuses mosh-parts (ces breaks quasiment "dansants" ayant donné le nom du style) sont ainsi autant d'éléments éloignant le slam de la mouvance pure du brutaldeath. A ce titre, les deux premières oeuvres de Devourment, Molesting the Decapitated et Butcher the Weak, dont je ne suis pas particulièrement fan, comptent aujourd'hui autant d'adeptes que de détracteurs.
Séparé il y a quelques années, Devourment annonce son retour en 2005 sous l'impulsion de son leader Mike Majewski, embarquant ses mêmes acolytiques pour une seconde partie. Ce retour aura été très attendu, le manque de technique récurrent du slamdeath, frappé par la masse de formations médiocres ayant emboité le pas du groupe texan, n'ayant peu participé à la brillance du style ces dernières années.
Fidèle à son label Brutabands, à qui l'on doit les dernières sorties de Human Mincer, Despondency et Insidious Decrepancy, Devourment rejoint une nouvelle fois l'ingénieur Braxton Henry, pour les sessions de son troisième album Unleash the Carnivore en mars 2009. A en croire la superbe illustration conjointement signée par les maîtres Dan Seagrave et Par Olofsson, on pourrait alors imaginer le groupe ayant délaissé son style de prédilection au profit d'un concept se rapprochant du brutaldeath ô combien profond de son homonyme Disgorge (US), autre brute en la matière.
Toutefois, cette impression se dissipe rapidement aux premières écoutes d'Unleash the Carnivore. Reprenant à son compte ce même côté gore et second dégré, parfois macho pour ne pas employer le terme idiot (Over Her Head Body), Devourment reprend visiblement les choses là où il les avait laissé quelques années auparavant. Musicalement, on retrouve ainsi ces rythmes tapageurs, marqués par la double pédale et les passages en gravity-blast d'Erik Park, s'opposant aux mosh-parts si chères au groupe, sans compter l'accordage extrêmement bas de Ruben Rosas et les growls de Mike Majewski, gras et putrides à souhait.
Sans technique particulière, mais aussi souvent moins inspirés, les titres d'Unleash the Carnivore défilent ainsi sans surprise ni remous spéciaux, rendant rapidement l'écoute monotone, et parfois même éprouvante, faute à cette lourdeur continuelle et cette absence de variété. Difficile ainsi de mettre quelconque titre en avant, exception faite d'un Incitement to Mass Murder ou d'un Over her Head Body notables, tant l'ensemble manque de moments clés, voire d'une certaine brutalité qui caractérisait pourtant idéalement Molesting the Decapitated.
Album correct dans la discographie de Devourment, Unleash the Carnivore n'enverra toutefois pas ses adorateurs, et plus généralement les fans de slamdeath, au tapis. Le groupe possède toutefois ce son et cette approche très caractéristiques, atouts de taille lui permettant de se différencier de ses concurrents actuels, manquant bien souvent d'identité dans ce style. Quant aux amateurs de la scène brutaldeath cousine, ils risquent d'être rapidement déçus par cette nouvelle réalisation qui, si elle dégage en apparence un parfum proche des derniers albums de Despondency ou Insidious Decrepancy, n'en possède ni la technique et ni vraiment la couleur.
Fabien.
23 janvier 2010