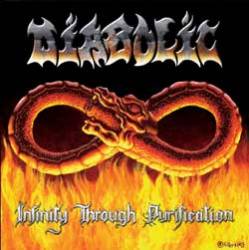 Depuis le bon Supreme Evil, le gang floridien de Diabolic n'a jamais véritablement réussi à transformer l'essai, habituant le deathster à un certain surplace, à coups de Subterraneal Magnitude & Vengeance Ascending honnêtes, sans toutefois transcender, restant de surcroît confiné dans l'ombre de son voisin Morbid Angel. Peu après la sortie de son troisième album, la formation emmenée par Brian Malone subit alors un changement radical de line up, s'avérant finalement une opération salvatrice. Le leader parvient en effet à relancer la machine, en recrutant tout d'abord le guitariste compositeur Eric Hersemann, retrouvant parallèlement son ancien acolyte Ed Webb, qui s'empare cette fois du chant en remplacement de Paul Ouelette.
Fort d'un line up solide, complété par l'intérim de Gaël Barthelemy (du groupe death hexagonal Drowning) derrière les fûts, Diabolic rentre alors au Sonic Ranch Studios sous la coupe de l'ingénieur du son Neil Kernon (Cannibal Corpse, Nile) en été 2003, pour les sessions de l'impitoyable Infinity Through Purification. Bénéficiant cette fois d'un enregistrement puissant, mais aussi d'une illustration brisant l'habituel dessin de Petagno, ainsi que d'une licence européenne en béton de l'écurie Century Media, le quatuor floridien montre une détermination sans faille, à l'instar de la scène death metal, qui retrouve sa force d'antan depuis ce changement de millénaire.
Infinity Through Purification démarre sur un Astral Plane sans pitié, dominé par les blast-beats et les roulements de Gaël Barthelemy particulièrement meurtriers. L'assise rythmique solide du frappeur français sert de véritable moteur aux guitares de Malone & Hersemann, qui bombardent à coup de riffs rapides & tranchants, supportant les growls brutaux & les cris haineux d'Ed Webb.
Mais, outre la précision et la violence de ses rythmiques, Diabolic puise avant tout sa force grâce à la communion de ses deux guitaristes, se partageant non seulement l'écriture des morceaux, mais possédant parallèlement des jeux très complémentaires, permettant de nuancer et d'épaissir considérablement les compositions, à l'image des redoutables Exsanguinated Life & Enter the Maëlström. Enfin, cerise sur le gâteau, Le couple se livre à des duels de soli aussi poignants qu'exquis, apportant une forte coloration à l'ensemble, charmant définitivement l'auditeur lors de leurs échanges mémorables sur Satanic Barbarism & Soul Grinders.
Décisif sur la scène death metal en cette année 2003, aux côtés de Goremageddon, Aeon ou Affiliated with the Suffering (Aborted, Zyklon, Blood Red Throne), Infinity Through Purification confirme ainsi la très bonne santé du death metal à cette époque, plaçant de nouveau Diabolic parmi les formations death nord américaines les plus dangereuses du moment, tout en lui permettant de gagner en personnalité.
Malheureusement, après une tournée comptant l'impitoyable Tim Yeung (Hate Eternal, Decrepit Birth) derrière les fûts, le leader Brian Malone décide de stopper l'aventure, laissant son acolyte Eric Hersemann rejoindre temporairement les rangs d'Hate Eternal. Aujourd'hui, privé de son leader, Diabolic s'est toutefois reformé, sous l'impulsion de son ancien batteur Aantar Lee Coates, sans hélas retrouver le feeling et l'intensité atteinte lors de la période bénie de Malone & Hersemann.
Fabien.
9 décembre 2008