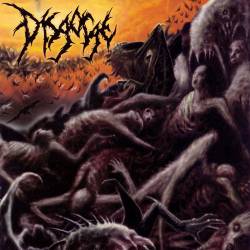 Trois ans après avoir marqué les esprits avec l'effroyable Consume the Forsaken, Disgorge remet le couvert en cette année 2005, fort du nouveau growleur Levi Fuselier, au guttural tout aussi incompréhensible que son prédécesseur AJ Magana, et du guitariste Ed Talorda, renforçant l'équipe à la seconde guitare. Le gang californien s'embarque ainsi au Blackbeard Studio de San Diego, pour les sessions de Parallels of Infinite Torture, débouchant sur sa sortie chez Crash Music en mai 2005, muni d'une illustration de l'incontournable Jon Zig.
Alors que nombre de formations s'assagissent avec le temps, Disgorge conserve quant à lui sa brutalité légendaire, plus extrême et suffocant que Broken Hope, Incantation et Suffocation réunis. Le couple rythmique Myers / Marlin martèle en effet comme jamais, servant les riffs aussi précis qu'étouffants du duo Sanchez / Talorda, et le guttural horrifiant de Fuselier, à l'image de Revealed In Obscurity & Enthroned Abominations, aux paroles d'un ésotérisme particulièrement malsain.
Pourtant, au-delà de son extrême brutalité, Disgorge épaissit encore son style, grâce l'apport d'une seconde guitare, lui permettant de nuancer considérablement ses riffs. Le groupe soigne parallèlement ses atmosphères, variant ses tempos à coup de breaks écrasants ou d'interludes instrumentaux judicieux, à l'instar des mémorables Atonement et Forgotten Scriptures, mais prend également le temps d'enrichir ses compositions, qui s'étendent au final sur une durée conséquente de 44 minutes.
Usant de rythmiques d'une lourdeur insoutenable, de guitares accordées très bas et d'un guttural parmi les plus terrifiants du circuit, Parallels of Infinite Torture ne s'adresse donc qu'à un public plus le moins limité. Mais, au delà de cette déferlante sonore, l'auditeur averti découvre au fil d'écoutes attentives que cette débauche de brutalité à pourtant un sens, délivrée par un combo d'une technique irréprochable, maîtrisant son sujet et soignant parfaitement ses ambiances. Parallels s'inscrit en effet comme l'effort le plus abouti de Disgorge à ce jour, dépassant l'imparable Consume the Forsaken en terme de profondeur, et se situant désormais à mille lieux du death expéditif de She Lay Gutted.
Fabien.
17 mars 2008