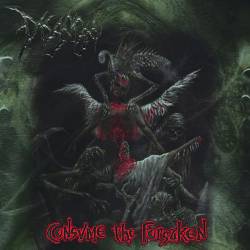 Trois ans après l'abominable She Lay Gutted, avec sa pochette et ses textes outranciers, Disgorge revient battre les tympans des métalleux les plus endurcis. Il délaisse cette fois son gore inutile et choquant, adoptant un concept plus sobre en apparence, mais tout aussi malsain, jetant cette fois son dévolu sur le messie et ses douze apôtres. Reconduisant son contrat avec l'écurie Unique Leader, le quatuor de San Diego rejoint Chris Djuricic au Studio One en février 2002, pour les sessions de Consume the Forsaken, son troisième méfait impeccablement illustré par l'incontournable Jon Zig.
Version extrême de Cannibal Corpse et Suffocation réunis, Disgorge reste fidèle à son death brutal et particulièrement étouffant. Dès le terrible Demise Of The Trinity, le couple rythmique de Ricky Meyers et Ben Marlin (RIP) broie tout sur son passage, à coup de blasts, de roulements et de grondements d'une violence sans limite, mais également d'une maîtrise imparable, servant les riffs techniques et suffocants de Diego Sanchez. AJ Magana, nouvelle recrue au micro, enfonce alors le clou, avec son dégorgement parmi les plus effrayants jamais entendus.
Pourtant, au-delà d'un mur sonore apparemment infranchissable, Consume the Forsaken affiche une précision et une subtilité étonnantes, comblant le fan de death brutal le plus exigeant, depuis les redoutables Perverse Manifestation & Manipulation Of Faith, jusqu'à Divine Suffering et son final écrasant. Bénéficiant en outre d'un enregistrement d'une épaisseur et d'une lourdeur considérables, l'album montre ainsi toute la marge de progression effectuée par Disgorge depuis Cranial Impalement & She Lay Gutted, laissant déjà les deux précédents assauts loin derrière.
Brutal et asphyxiant au possible, ne laissant aucune seconde de répit durant ses 31 minutes, Consume the Forsaken s'adresse avant tout au fan inconditionnel de deathmetal extrême. Ses compositions meurtrières, plus abouties et parfaitement assemblées, hissent sans conteste Disgorge parmi les formations les plus intéressantes du "brutal underground" californien, aux côtés de ses confrères de Deeds Of Flesh.
Fabien.
19 février 2008