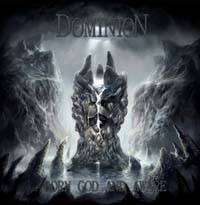 Terre connue actuellement pour ses nombreuses formations de death mélodique pompeuses, la Suède compte parallèlement des groupes de death techniques parmi les plus incisifs & intéressants du moment, tels les incontournables Anata, Spawn of Possession ou Visceral Bleeding, témoignant une scène bien moins stéréotypée qu'en apparence. Formé en 2004 autour de Victor Brandt & Jocke Olofsson, Dominion fait justement partie de ces combos suédois brutaux & techniques, loin de toute plastique ennuyeuse, possédant un son et une accroche typiquement états-unienne, à l'instar de ses compatriotes d'Aeon ou Insision.
Sans démo à son actif, mais fin prêt, le duo enregistre dès 2005 son premier album, Born God and Aware, sous la coupe du batteur Jocke Olofsson lui-même, et parvient parallèlement à décrocher un contrat avec Erik & Jacoby, boss du bon label Unique Leader. Ceci se concrétise par la sortie du disque en octobre 2006, paré d'une superbe illustration du maître Pär Olofsson, maintes fois sollicité durant l'année, pour les pochettes d'Abysmal Dawn, Inherit Disease ou Spawn of Possession.
A l'image des ses morceaux Temple of Insects & World Downfall, parfaitement calibrés au passage, Born God and Aware trahit la passion évidente de Dominion pour Morbid Angel, Hate Eternal & Cannibal Corpse, lâchant ce death pur, furieux et sans concession. Privilégiant une violence rythmique à toute forme de mélodie, à coups de blast-beats et de riffs écrasants, le groupe affiche en effet un niveau de brutalité manifeste, tout en multipliant les harmoniques dissonantes, inhérentes aux brutal death, et les pointes techniques renversantes, à l'image des débordements d'Appreciate the Mutilate, I Bury Blades & Elite, lui donnant un côté Origin & Unmerciful judicieux.
Toutefois, malgré son ficelage étonnant, la furie de titres tels The Endless & Demonstration of Domination, Born God and Aware ne possède pas l'identité nécessaire à sa distinction, face à une concurrence particulièrement impitoyable dans le style. Dominion compense en revanche son manque de personnalité par une violence et une précision notoires, dans l'exécution de ses rythmiques, ses riffs et ses soli, dévoilant ainsi de bons atouts pour convaincre l'amateur de brutal death, conquis par des formations techniques telles qu'Aeon, Insision & Hour of Penance.
Fabien.
23 octobre 2008