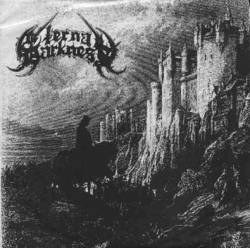 [Note : publiée sous cet EP Doomed, cette chronique relate également et plus précisément l'épisode du MLP Twilight in the Wilderness, enregistré cette même année 1992, mais n'ayant malheureusement jamais été commercialisé en tant que tel, donc inscrit sur les pages de Spirit-of-metal].
Voisin de ses confrères Crypt of Kerberos (ex-Macrodex) & House of Usher fondés à la même période, Eternal Darkness se forme en Suède à Eskilstuna en 1990, autour du guitariste Toni Pietilä et du batteur Make Pesonen, ce dernier étant également leader du groupe culte The Black aux côtés de Jon Nödtveidt. Rapidement rejoint par le bassiste Tero Viljanen et le growler Jannen Heikkinen, Eternal Darkness mélange habilement doom et deathmetal dès ses premières démos, à la manière des formations britanniques telles que Paradise Lost ou Decomposed. Jouant sur un rythme lourd et des guitares à l'accordage bas, supportant un chant guttural gras et caverneux, le groupe affine son style jusqu'aux sessions du EP Doomed en février 1992, tiré à 500 exemplaires vinyles par le label Distorted Harmony, écartant au passage le titre Ceremony of Doom.
Attirant alors l'attention de l'écurie Black Power Records, Eternal Darkness rejoint les studios Skyline durant trois journées de septembre 1992, pour les sessions d'un mini-album baptisé Twilight in the Wilderness. Articulé autour de cinq titres et de l'interlude instrumental That Day Will Come, s'étendant sur une durée conséquente de 25 minutes, le mini-album débute sur le titre Psychopath, déjà présent sur le précédent EP. Si le style deathdoom du groupe n'a pas notoirement changé entre les deux enregistrements, il bénéficie en revanche d'un son plus professionnel et plus clair sur les dernières sessions, conférant un surcroît d'épaisseur aux compositions, sans trahir leur essence.
Les rythmes lents de Make, les guitares lourdes & lancinantes du couple Toni Pietilä / Jarmo Kuutola (la dernière recrue) et les vocaux granuleux de Janne instaurent ainsi une atmosphère sombre, qui hante rapidement le deathster. Eternal Darkness joue ainsi magistralement sur les ambiances, sans toutefois tomber dans la pure mélancolie. Twilight in the Wilderness oppose en effet régulièrement ses harmonies subtiles à un riffing agressif, à l'image de Despair, A Pleasant Surprise et du titre éponyme, ou encore du morceau final The Island of Fear, qui clôture magnifiquement le mini album sur des soli d'une intensité saissisante.
Privilégiant épaisseur et sensibilité à une technique exacerbée, Doomed et Twilight in the Wilderness sont deux oeuvres profondes et sensibles, se comptant parmi les perles deathdoom suédoises du début des nineties. Le sort prive en revanche Eternal Darkness d'une reconnaissance méritée, à commencer par ses déboires successifs avec les labels Black Power Records puis Necropolis Records, qui conduiront à l'annulation pure et simple de la sortie du mini-LP.
Poursuivant néanmoins l'aventure et jouant notamment aux côtés de Demilich, Sentenced, Gorement ou Demigod, Eternal Darkness est stoppé net en 1995 suite à la disparition tragique de Jarmo Kuurola, entrainant sa séparation définitive et regrettable. Il faut alors attendre l'année 2006 pour que Necroharmonic Records répare enfin l'injustice, commercialisant Doomed et le fabuleux Twilight in the Wilderness, assortis des premières démos, sur l'album compilation Total Darkness.
Fabien.
12 novembre 2009