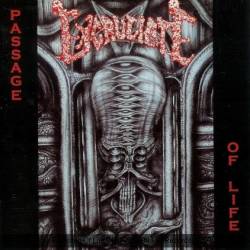 Quasi pionnier du death metal suédois, Excruciate se forme sous le nom de Korgull à la fin des eighties, autour du guitariste compositeur Hempa Brynolfsson, comptant dans ses rangs quelques membres prestigieux, tels Christoffer Johnsson ou Fredrik Isaksson, officiant actuellement dans les formations respectives de Therion & Grave. Après une première démo Mutilation of the Past et un split-LP avec Epitaph, enregistrés en avril 1990 et Janvier 1991, la bande se dirige en octobre 1991 aux fameux Sunlight Studios (ayant précédemment et successivement accueilli des groupes tels que Tiamat, Entombed, Carnage, Therion ou Grave), pour les sessions de son premier full lenght. Passage of Life sort toutefois tardivement chez le petit label français Thrash Records (Sentenced, Epitaph, Wombbath, Torturer, Mordicus), dans le courant de l'année 1993, à une époque où les places décisives se jouent décidément à quelques mois près.
Passage of Life lâche un death metal dans la grande tradition suédoise, bâti autour de rythmiques tapageuses et chargées en double pédalage, tout en dégageant un son résolument froid, distillant parallèlement des pointes mélodiques ou mélancoliques typiques des contrées scandinaves, à l'image du très bon Self Fertilization, ou encore d'Eternal Incubation et de son intro acoustique très appréciable. Sur le couple basse batterie précis d'Ax / Isaksson, les guitares de Brynolfsson / Melander sont incisives, supportant le guttural granuleux de Lars Levin.
En revanche, si son précédent split-LP possédait un côté rugueux & caverneux, qu'Incantation ou Morpheus (US) n'auraient pas renié, Excruciate perd une part de son originalité en rejoignant Tomas Skogsberg aux Sunlight Studios, se retrouvant avec une production certes claire et suffisamment profonde, mais aux colorations Nihilist ou Dismember beaucoup trop marquées pour l'imposer sur une scène désormais stéréotypée à cette époque. Ses compositions, toutefois fort bien ficelées, ne parviennent pas non plus à faire la différence, en regard des Left Hand Path ou Dark Recollections (Entombed, Carnage), ayant déjà laissé une trace indélébile quelques petites années auparavant.
A l'image de God Macabre, Seance ou Hetsheads, Excruciate arrive ainsi un poil trop tard sur le devant de la scène death suédoise, de surcroît sur un petit label, restant immuablement dans l'ombre des ténors tels qu'Entombed, Dismember, Grave & Unleashed, qui auront dès lors et fatalement raison de lui. Le groupe emmené par son leader Hempa Brynolfsson laisse néanmoins un témoignage authentique du death scandinave du début des nineties avec Passage of Life, son seul full lenght album, qui devrait ravir sans problème l'amateur du death première époque, à défaut de s'imposer parmi les références incontournables du style.
Fabien.
16 décembre 2008