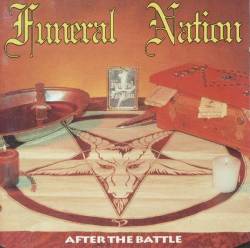 L'écurie allemande Turbo Music reste avant tout connue pour s'être fait tirer à bout portant par les groupes et par la presse, non seulement pour la qualité parfois contestable de ses réalisations, mais aussi pour son absence de royalties revenant à ses jeunes poulains ou à ses illustrateurs, comme Chris Moyen. A l'origine de la sortie en 1991 d'Oath of Black Blood de Beherit et de Reflections of the Solstice des black-doomers nord américains de Goatlord, le label teuton commercialise également la même année le premier album des thrash-deathsters de Funeral Nation, le bien trop méconnu After the Battle.
Enregistré à l'Acme Studio en février 1991, dans la ville natale du gang de Chicago, After the Battle reste un pur produit de thrashmetal, d'une coloration satanique proche des ambiances de Seven Churches et Hell Awaits, des invincibles Possessed et Slayer. Il suffit en effet des premiers morceaux comme le titre éponyme ou le bon In God We Trust pour comprendre les influences premières de Funeral Nation.
Entrainé par les rythmes majoritairement middle tempo de Dave Chiarella, les riffs de guitares simples mais agressifs de Chaz Baker et des vocaux rageurs de Mike Pahl, à la manière de Dream Death sur son A Journey to Mystery, les morceaux d'After the Battle privilégient avant tout l'efficacité du riffing à toute technique démonstrative. Régulièrement, le groupe accélère aussi le tempo, à l'image de Your Time Has Come ou Eternal Promises, donnant une dynamique supplémentaire à ses compositions.
Toutefois, bien que Funeral Nation réserve un lot notoire de surprises tout au long de son album, pour citer par exemple le formidable Misery et son riffing d'intro tout en finesse ou encore les bons In Silence et State of Insanity aux accélérations assassines, il applique souvent le même schéma à ses treize morceaux, tombant trop facilement dans le piège de l'interchangeabilité des titres, qui restent quoiqu'on en dise, de sacrées pépites du thrashmetal.
Adepte d'un thrashdeath agressif dans sa pleine et entière définition, Funeral Nation débarque avec un premier album très entrainant, développant la science du riff avant toute chose, et entretenant parallèlement une image satanique qui complète idéalement la donne. Malgré des titres manquant encore de personnalité et d'une pleine intensité, After the Battle se hisse ainsi en pièce de choix dans le domaine. On peut toutefois regretter que cette oeuvre (hélas unique) dédiée au Malin ne soit pas sortie au coeur des années 80, paraissant déjà plus datée en 1991, à l'heure du règne sans partage et sans pitié du deathmetal d'Immolation, Suffocation, Death ou Morbid Angel.
Fabien.
13 octobre 2010