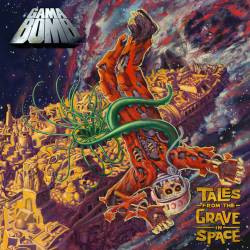 Depuis l'essor de Toxic Holocaust, Municipal Waste ou Rumpelstiltskin Grinder en cette année 2005, suivi des premiers full-lenght de Merciless Death, Violator ou Fueled By Fire, la scène désormais nommée revival thrashmetal compte aujourd'hui de nombreux adeptes, soutenus par des labels porteurs comme Century Media (Warbringer), Relapse (Dekapitator) ou Earache Records. Ce dernier, le mythique bastion britannique emmené par Dig Pearson, s'est rapidement taillé une part non négligeable du gâteau, à coups de contrats signés avec Municipal Waste, Violator, Evile, Bonded By Blood ou Gama Bomb.
Gama Bomb reste d'ailleurs l'un des acteurs de cette nouvelle scène thrashmetal possédant le plus de personnalité, caractéristique manquant à bien de ses jeunes homonymes qui, en tant qu'élèves appliqués, livrent souvent des réalisations un brin trop scolaires, se confinant dans l'ombre de leur glorieux aînés des années 80's.
Fort d'un line up inchangé et d'une bonhomie certaine, ainsi que d'un Citizen Brain déjà prometteur en 2008, Gama Bomb remet le couvert dès l'année suivante, aux Grindstone Studios sous la houlette l'ingénieur du son Scott Atkins. Explorant une nouvelle approche commerciale, Earache Records décide de mettre dès novembre 2009 ce tout chaud Tales from the Grave in Space en téléchargement libre sur son site, puis de proposer le CD manufacturé à moitié prix (5 misérables Euros) dès le mois de janvier de l'année suivante. En outre, organisé à la façon des vieux comics US de l'après guerre, le livret qui accompagne le CD reste un pur bonheur à découvrir, bref autant de raisons inattaquables pour que chaque thrasher digne de ce nom s'intéresse de près à la sensation anglo-saxonne, aux côtés d'Evile.
Tales from the Grave in Space attaque d'entrée par deux morceaux très hargneux, les géniaux Slam Anthem et New Eliminators of Atlantis, dominés par leurs rythmiques entrainantes, leur riffing agressif et leurs refrains imparables. Le chant varié et percutant de Philly Byrne, parfois judicieusement haut perché, couplé aux voix en rappel des ses collègues, dynamise enfin impeccablement le tout, complètant le tableau avec une bonhomie et un entrain certains.
La suite de Tales from the Grave in Space se déroule ainsi suivant le même schéma, à coups de rythmes entrainants, de refrains accrocheurs, de mosh parts délirantes (qu'Anthrax n'aurait pas renié sur son précieux Among The Living) et de soli emplis de mordant. Le riffing énergique de Three Witches, le palm muting rapide de Last Ninjas Unite, ou les accélérations du court & génial Mussolini Mosh sont ainsi autant d'éléments apportant beaucoup de relief à l'ensemble.
Débordant de cet humour typiquement britannique que Lawnmower Deth, Acid Reign ou Re-Animator entretenaient si bien, Gama Bomb confirme ainsi tout le bien que le thrasher pensait de lui suite à son précédent album. A l'inverse d'un Municipal Waste affichant un certain surplace en cette année 2009, le quintette britannique gagne ainsi en mordant, en intérêt, mais aussi en personnalité, s'affirmant parmi les combos du revival thrashmetal les plus intéressants du moment, grâce à douze nouveaux titres frais comme du poisson et trente petites minutes idéales pour des fêtes musclées.
Fabien.
27 avril 2010