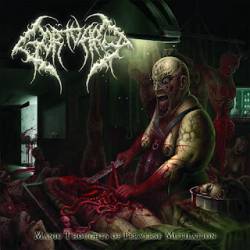 Particulièrement saturée, inondée de groupes sans grand intérêt, la scène brutaldeath gore actuelle, plus spécialement états-unienne, reste une véritable jungle dont peu de formations réussissent véritablement à s'extraire. Formé dans le puits sans fond californien en 2006, Gortuary compte justement parmi ces combos cumulant à première vue les stéréotypes, se spécialisant dans les thèmes d'horreur, de viols et de perversions maintes fois rabâchés, les démembrements en tout genre n'étant désormais une surprise pour personne.
Après une unique démo, le quintette ouest américain trouve rapidement refuge chez l'un des spécialistes du brutaldeath, le fameux label Sevared Records, à qui l'on doit notamment le bon Annihilate the Enemy de l'Indonésien Jasad ou encore l'incontournable Guilty as Charged du new-yorkais Criminal Element. En studio dès novembre 2007 pour la mise en place de son premier album, Gortuary ressort ainsi avec 32 minutes d'un deathmetal d'une brutalité et d'une barbarie absolues, effroyablement mis en image par George Prasinis, auteur d'illustrations renversantes comme celle du redoutable album Extermination of Millions d'Inveracity.
Le bien nommé Manic Thoughts of Perverse Mutilation, au nom particulièrement évocateur quant à la violence du contenu, débute sur une intro horrifique collant directement le deathster dans une ambiance macabre, puis s'enchaine sur un déluge de blast-beats et un riffing terriblement écrasant. Il faut souligner combien l'accordage bas de la paire de guitaristes Glen / Andres contribue à cette lourdeur de tout instant, sans compter la basse ronflante de Jae (parfaitement calibrée dans le mixage) et les growls horriblement gras d'Oscar.
Mais, là où nombre de formations se perdent rapidement dans un riffing ennuyeux et une qualité d'enregistrement moyenne, Gortuary tire brillamment son épingle du jeu. Tout en assommant le deathster avec un plaisir manifeste, à coups de Skull Fragments ou Hereditary Retardation sans pitié, le groupe parvient à relancer idéalement son brutaldeath impitoyable, non seulement grâce à un riffing accrocheur, mais également avec l'apport de nombreux ralentissements, variations, soli inspirés, qui maintiennent toute l'attention.
La force de Manic Thoughts of Perverse Mutilation réside en outre dans la clarté de son enregistrement, se dotant d'un équilibre remarquable et d'une lourdeur si écrasante. Ainsi, lorsque Gortuary accélère le tempo ou se lance dans des blasts de folie, il se mute en une machine implacable, décuplant sa force et son extrême brutalité dans ces instants, à l'image du terrassant Transgrender Dismember ou du mémorable titre final Wake Up Murder.
Si l'originalité n'y est pas, la qualité de Manic Thoughts of Perverse Mutilation et la précision de ses interprètes impressionnent. Manifeste de brutalité pure, d'un niveau de violence rarement atteint, à l'instar des terribles Bleeding Profusely ou Psalms of the Moribound (Gorgasm, Defeated Sanity), le premier album de Gortuary fixe d'emblée la barre très haute, montrant un groupe parfaitement en place et possédant un fort potentiel, dégageant parallèlement cette brutalité de chaque instant, à la fois débridée mais pourtant si contrôlée.
Fabien.
28 juin 2010