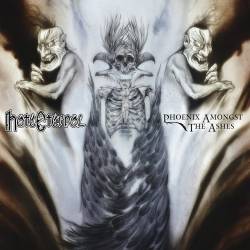 Après l'intégration successive de Doug Cerrito, Eric Hersemann et Shaune Kelley au poste de second guitariste depuis la formation d'Hate Eternal en 1997, Erik Rutan ramène finalement son groupe sous forme de trio, la formule qui lui convient visiblement le mieux, le leader se chargeant de nouveau de la capture de toutes les guitares. Accompagné une fois encore du jeune et talentueux batteur Jade Simonetto, il confie parallèlement le poste de bassiste à l'expérimenté JJ Hrubovcak (le frère de Mike) en lieu et place d'Alex Webster en session sur le précédent album.
Si Fury and Flames se hissait parmi les disques les plus déchainés et incandescents de la carrière d'Hate Eternal, il n'en restait pas moins un album relativement dense et difficile d'accès. Erik Rutan corrige le tir et revient cette fois avec un Phoenix Amongst the Ashes plus lisible, non seulement en aérant ses compositions mais aussi en mettant l'accent sur une production plus claire durant les sessions aux Mana Studios habituels, dont il est le propriétaire, tout en conservant cette furie de tout instant qui caractérise idéalement la formation.
Le martèlement du batteur soutenu par une basse solide est sans appel dès les premiers morceaux, Hate Eternal dégageant une puissance de feu phénoménale durant The Eternal Ruler ou Thorns of Acacia, sous un déluge de blast-beats tonitruants ne stoppant qu'au profit de middle tempi en double pédalage tout aussi meurtriers, à l'image du final du titre éponyme d'une sacrée intensité. Les guitares rythmiques d'Erik sont une nouvelle fois tranchantes mais aussi plus directes, supportant son chant guttural profond superposé sur de nombreux passages avec un chant criard enragé. Le leader s'illustre enfin par la force de ses soli, croisant impéccablement ses leads sur la partie centrale d'Haunting Abound.
Malgré un Deathveil et un Lake Ablaze encore cataclysmiques sur la seconde partie, Phoenix Amongst the Ashes ralentit plus significativement le tempo en se dirigeant sur la fin, à l'image d'Hateworn et The Fire of Resurrection déjà plus posés. Le trio clôt ainsi sur des compositions plus aérées et non moins saisissantes, mais perd en revanche une partie de la furie si bien entretenue sur les premiers morceaux, bien que ce facteur reste relatif s'agissant d'Hate Eternal.
Nouvelle pierre de l'édifice inébranlable bâti par Erik Rutan depuis bientôt quinze années, Phoenix Amongst the Ashes montre notre leader en grande forme, ayant trouvé un couple rythmique d'une solidité à toute épreuve, taillé pour le deathmetal si brutal et si puissant d'Hate Eternal. Plus exactement axé dans la lignée de l'invincible King of All Kings, ce nouvel album manque juste globalement de surprise pour réellement faire la différence, mais pour le reste, la puissance du trio et la détermination de son leader n'ont toujours qu'aussi peu d'équivalent.
Fabien.
20 mai 2011