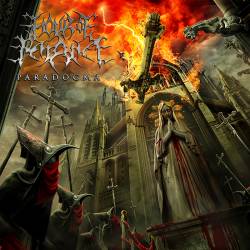 Auteur d'un Pageantry for Martyrs déjà notable, Hour Of Penance s'est avant tout révélé lors de son intégration au sein de l'écurie Uniqueleader Records, à l'occasion de son album The Vile Conception, véritable montée d'adrénaline de brutaldeath. Attendu par de nombreux deathsters en ce printemps 2010, son quatrième effort intitulé Paradogma représente ainsi une sortie importante pour son label, qui s'est déjà illustré en ce début d'année avec les bons Thee Arcane Progeny et Reflections Within Dissonance des nord américains de Sarcolytic et Arkaik.
Muni d'un budget conséquent, Hour Of Penance a ainsi pu rejoindre sereinement l'ingénieur du son Stefano Morabito dès le mois d'août 2009, aux désormais prisés 16th Cellar Studios transalpins, et s'offrir parallèlement un mastering aux non moins célèbres Hertz Studios polonais. Paru en ce mois de mars 2010, Paradogma bénéficie également d'une illustration somptueuse de Gyula Havancsak, mettant en image l'effondrement de la chrétienté, symbolisé par la destruction d'une cathédrale désormais aux mains des forces maléfiques.
Le titre éponyme ouvre l'album sur une intro symphonique qui apporte de suite une tension dramatique notable, s'enchainant rapidement sur les rythmes de batterie intraitables de Mauro Mercurio et le riffing survolté de Giulio Moschini, unique guitariste et tête pensante de la formation. A l'image de son brillant prédécesseur, Paradogma donne ainsi cette forte impression de puissance dès son premier morceau, bénéficiant d'une mise en place et d'une précision notoires de la part de ses interprètes, bien que le rendu soit cette fois plus synthétique tant les pistes semblent retouchées en studios. Le timbre guttural rageur de Franscesco Paoli renforce cette hargne présente, le growler insufflant parallèlement beaucoup de dynamisme à l'ensemble, grâce à un phrasé rapide et articulé.
Sur les bons Thousands of Christs et The Woeful Eucharisty, au propos anticlérical manifeste, Hour Of Penance maintient la pression grâce une sacrée vitesse d'exécution, tout en cassant le rythme par l'injection de partie lourdes, dominées par le double pédalage de Mauro et le riffing serré de Guilo, le tout appuyé par la production massive de Stefano Morabito. Notre guitariste superpose également ses riffs, singularise son jeu et s'emballe régulièrement dans des soli débridés, apportant la nuance et la variété nécessaires à chacun des morceaux. La lourdeur de Malovelence of the Righteous, la teigne d'Adversary of Bigotry, ou encore la grandeur du final de Caged into Falsehood, sont ainsi des armes efficaces au service de la puissance de Paradogma. Enfin, après un moment d'accalmie le temps de l'outro de Spiritual Ravishsment, l'album se clôt sur le lent et prenant Apotheosis, aux vocaux clamés en langue latine, quatre minutes durant lesquelles Hour Of Penance quitte ses rythmiques survitaminées habituelles, en quête d'une nouvelle forme d'intensité, non loin des résonances parfois industrielles si finement exécutées par son homonyme norvégien Zyklon.
Sans atteindre le niveau d'intensité de l'implacable et désormais incontournable The Vile Conception, Hour Of Penance lâche un Paradogma varié et dramatique, confirmant sa place parmi les formations extrêmes les plus en vue d'Italie aux côtés du jeune Fleshgod Apocalypse. Dans le sillage d'Hate Eternal et plus particulièrement de Behemoth cette fois-ci, le groupe emmené par Giulio Moschini perd toutefois en personnalité en voulant gagner un public plus large, mais devient également plus synthétique faute à une production si massive et précise qu'elle en oublie de se recentrer vers les fondamentaux du deathmetal.
Fabien.
4 avril 2010