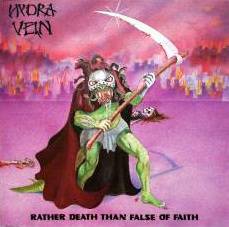 Sans occulter l'influence considérable des metalheads de Venom, le Royaume-Uni a été un vivier incomparable de formations Crust/HC durant les années 80's, sous l'influence des premiers efforts de Discharge, Antisect, Amebix ou Sacrilege. Avec cette culture toujours sous-jacente, une frange de la scène extrême du pays s'est tourné plus précisément vers le thrashmetal depuis l'incontournable Power from Hell d'Onslaught, ayant lui aussi débuté sa carrière en tant que groupe HC/Punk. Durant la seconde partie des eighties, plusieurs formations plus purement thrash apparaissent ainsi ou métallisent leur son, une horde restée dans l'ombre d'Onslaught et Sabbat, le duo qui vient immédiatement à l'esprit, sans occulter les speedthrashers de Deathwish ou le slayerien Anihilated. Pourtant, sans être aussi marquante que ses voisines allemande et nord-américaine, la scène thrashmetal britannique comporte également un foyer prolifique plus on se rapproche de la fin de la décennie, pour citer les formations funs tel qu'Acid Reign, Lawnmower Deth ou Re-Animator, les victimes du son Bay-Area tel que Xentrix, Slammer ou D.A.M., puis tous ces thrashers et anciens crust/punkers repentis, tel que Cerebral Fix, Virus, Xyster, Hellbastard ou Energetic Krusher.
Inclus dans cette dernière catégorie, Hydra Vein compte aussi parmi ces formations british-thrash talentueuses, mais au parcours relativement discret et à la durée de vie plutôt éphémère, celle de notre groupe de Brighton ayant débuté en 1987 pour se clore trois ou quatre années plus tard. Une première démo-tape attire l'attention de Metalother, petite écurie anglaise sans grande envergure ne comptant aucun groupe thrashmetal dans son catalogue, et n'ayant que peu de moyens promotionnels à mettre à disposition du quintet. Le contrat se concrétise par la sortie du vinyle LP Rather Death Than False of Faith en début d'année 1988, muni d'une illustration mettant piètrement le contenu en valeur.
Les plans lourds de Rabid en ouverture plantent idéalement le décor, cédant ensuite la place à un rythme rapide et des guitares diablement agressives, garantissant ainsi de belles montées en puissance dès ce premier morceau. Crucifier, The House, Right to Die, sont quant à eux farcis de riffs percutants, de leads soignées et de refrains tout aussi mémorables, sans occulter le chant teigneux de Mike Keen, donnant à cette première face du vinyle un impact immédiat. La seconde partie est déjà plus alambiquée, comme s'il s'agissait des compositions les plus récentes d'Hydra Vein. C'est durant cette seconde partie que l'influence de Slayer se fait le plus sentir, sur le titre Misanthropic par exemple et plus encore sur l'excellent Harlequin, qui bénéficie d'un riffing solide et d'une articulation remarquable. Moins évidente à appréhender aux premières écoutes, cette face s'avère au final tout aussi intéressante.
Si l'aspect extérieur n'engage guère le thrasher à poser une oreille sur le disque, Rather Death Than False of Faith est pourtant un effort qui mérite le détour, comptant parmi ces bons albums british-thrash de la fin des eighties, à l'instar d'In Good Faith…? ou de Path to Oblivion signés par Xyster & Energetic Krusher, et passés eux aussi relativement inaperçus. Groupé avec le mini-LP After the Dream qui lui succédera une année plus tard, ce premier full-lenght des frères Maddison bénéficie d'une réédition CD en 2007 par le label bon marché Blackend, bien que ce dernier, s'il nous colle cette fois enfin les crédits, oublie les paroles & pochettes des deux albums au passage.
Fabien.
31 août 2012