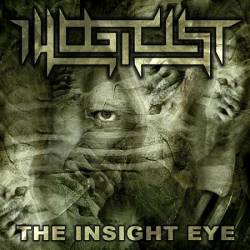 Membre talentueux de la nouvelle vague de death technique qui s'émancipe au début des années 2000, Illogicist reste toutefois cantonné dans l'ombre de l'underground pendant de longues années.
L'hermétisme de son premier album, Subjected, ambitieux et très technique, mais aussi démonstratif en diable, n'a sans doute pas permis aux Italiens de séduire un public suffisamment large. Illogicist ne se décourage pas, et entre tournées intensives et disque promo auto-produit, il parvient à séduire Willowtip Records, avec à la clé une signature qui ouvre de nouvelles perspectives.
Enregistré au début 2007 dans les propres studios de Luca Minieri, puis mixé une nouvelle fois aux Finnvox Studios (Helsinki), The Insight Eye, second album d'Illogicist bénéficie en outre du renfort non négligeable de Marco Minnemann derrière les fûts.
Tirant visiblement des enseignements du passé, Illogicist réussit à éliminer pour bonne partie les scories de son précédent album, sans compromettre ses atouts artistiques. Le groupe italien propose un death metal très technique, qui revendique plus que jamais ses influences Death et Atheist: assumant parfaitement cet héritage, les musiciens disposent à la fois de la technique individuelle et du talent artistique pour relever le défi. Le bassiste Emilio Dattolo en est l'exemple parfait, incarnant ce jeu jazzy et subtil qui fût l'une des caractéristiques des Dieux américains, et qui s'avère être la pierre angulaire de la musique d'Illogicist. The Insight Eye s'articule donc autour de ces lignes ensorcelantes, en restant dans un tempo globalement peu enlevé, tranchant par là assez nettement avec l'école Necrophagist. A la fois mélodique et tourmenté, le jeu des guitares de la paire Minieri / Abrosi amplifie l'impression de clair-obscur qui jaillit à chaque note. Toujours soigné et élégant, le death d'Illogicist s'amuse à créer une atmosphère complexe et déstabilisante: on se laisse facilement griser par la justesse harmonique et la séduction de ces enfilades de notes gracieuses pour mieux se faire surprendre par des passages plus catchy et agressifs. Connu pour ses penchants mathcore et constructions en spirales à rendre chèvre, Illogicist abandonne l'utilisation systématique des polyrythmies et constructions déstructurées. Sans tomber dans le tout linéaire, le groupe parvient à conserver sa complexité et sa richesse à l'échelle de chaque morceau tout en gagnant en sobriété à l'échelle du riff. Le résultat est significativement plus convaincant: la musique d'Illogicist devient plus lisible, disposant d'une aération incontestable qui permet de nettement mieux apprécier l'ensorcelante machine à émotions. Elle gagne par la même en authenticité et en profondeur.
Les 40 minutes passent ainsi bien plus vite que celles plus éprouvantes de Subjected, avec à la clé une constance indéniable tout au long des huit titres, et dont le revers de la médaille serait qu'aucun ne sort véritablement du lot (peut-être Brain Collapse, dont le titre est révélateur d'un jeu d'enchaînements captivant et déstabilisant).
Illogicist parvient de fait à trouver sa place au sein de la scène techno-death, plus posé et moins véhément que ses congénères, les blasts en moins mais l'élégance italienne en plus.
En attendant une suite forcément prometteuse à The Insight Eye, il est clair que celui-ci à de quoi donner de longues heures de satisfaction aux amateurs qui ne cherchent pas systématiquement les efforts les plus ultimes du genre.
eulmatt (www.metal-blogs.com/eulmatt).
Je préfère également The Insight Eye à son prédécesseur. La maturité aidant, Illogicist gagne en effet en saveur et en fluidité, tout en restant fidèle à son style architectural. A ce titre, bien que le rendu soit moins mélodique et que le groupe n'évolue pas non plus dans la même cour, je pense qu'un parallèle avec les nord américains d'Arsis peut être pertinent. En tout cas, la démarche d'Illogicist est réellement différente de ses compatriotes Fleshgod Apocalyse et Hour of Penance, le groupe rangeant volontiers les blasts et le côté brutaldeath au placard. Un bon album technique, original qui plus est, tout en assumant parfaitement l'influence Chuck Schuldiner. Fabien.
11 novembre 2010