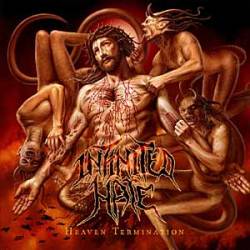 Fondateur de Sinister en 1988 et principal compositeur du culte Cross the Styx paru chez Nuclearblast en 1992, Ron van de Polder avait pourtant quitté son groupe peu après la sortie de l'album, pour prendre un poste de simple exécutant chez Ceremony en tant que bassiste, puis disparaitre du circuit. Après être venu à la rescousse de son ancien protégé en 2003, l'homme reprend goût et revient avec un nouveau groupe dénommé Infinited Hate, se chargeant non seulement de toutes les compositions, mais aussi de la programmation de la boite à rythme et de l'interprétation des lignes de basse et de toutes les guitares, tandis que le poste de growler est partagé par deux vieilles connaissances de Sinister, Rachel Heyser et Aad Kloosterwald.
Un an et demi après le premier album Revel in Bloodshed, Infinited Hate revient à la charge à l'automne 2005 avec son nouvel effort Heaven Termination, sous contrat renouvelé avec l'écurie Displeased Records. Capturé aux fameux Excess Studios (Gorefest, Krisiun) et muni d'une terrible illustration de Graal, le second album bénéficie avant tout de l'apport d'un véritable batteur, le rôle ayant été confié aux mains expertes de Dirk Verbeuren (Scarve, Aborted, Yyrkoon), frappeur parmi les plus puissants et talentueux du circuit extrême.
Avec une telle assise rythmique, Heaven Termination bénéficie d'une mise en place et d'une articulation sans reproche, Infinited Hate nous lâchant un deathmetal sans compromis, qui nous renvoie volontiers du côté de son homonyme Sinister, ou encore vers d'autres formations bataves tout aussi brutales comme Houwister ou Centurian. Le fracassant morceau Purity Corrupted ou le tout aussi brise-nuque First Faced Aggressor, assortis d'un discours anticlérical et d'une imagerie démoniaque sans détour, sont autant d'éléments qui témoignent de la violence deathmetal du quatuor.
Malgré sa consistance, Heaven Termination n'est pas un album parfait. Les guitares de Ron van de Polder rappellent bien sûr Sinister, mais difficile de retrouver ce même relief et cette même incision comparés aux riffs impitoyables de notre leader sur Cross the Styx. L'enregistrement pourtant réalisé par Hans Pieter aux Studios Excess reste également un brin confus, tandis que l'alternance entre les growls d'Aad et Rachel n'apporte pas de dynamisme supplémentaire, là où cette brèche méritait pourtant une meilleure exploitation.
Se terminant sur une reprise intéressante d'Unleashed (Before the Creation of Time) tirée du magique Where no Life Dwells (1991), Heaven Termination reste globalement assez linéaire, bien que son deathmetal solide doive ravir sans problème les fans de cette bonne scène batave. Si Infinited Hate possède ainsi en cette année 2005 des atouts de taille pour être bien plus fracassant, il se contente donc d'un album tout à fait correct, tout en s'inscrivant à cette période comme une bonne alternative à Sinister, auteur en 2003 d'un Savage or Grace bien décevant et officiellement séparé durant ce laps de temps.
Fabien.
6 février 2012