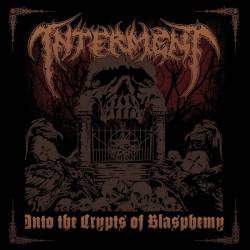 Tandis que certaines formations pionnières du deathmetal suédois embrassaient le succès au début des années 90 bénies, pour ne citer qu'Entombed ou Dismember, d'autres groupes talentueux tels Nirvana 2002 ou Crematory disparurent prématurément après quelques démos et EP pourtant prometteurs. C'est notamment le cas d'Interment, formé dès 1988 et auteur de la fameuse démo Where Death Will Increase, mis en hibernation au milieu des nineties.
Il faudra ainsi attendre 2007 pour que le groupe ressurgisse lors du Split-LP commun avec son homologue outre-Atlantique Funebrarum, jusqu'à l'enregistrement de son premier album complet en janvier 2010 (sous la houlette de l'ingénieur Peter Bjargo), soit 22 années après sa formation. Sans surprise, Interment décroche parallèlement un contrat tant attendu avec le label singapourien Pulverized Records, spécialiste dans les signatures de vieux routards du deathmetal tels Seance, Desultory ou Crypt Of Kerberos.
Boudant les influences modernes, le bien nommé Into the Crypts of Blasphemy répond très justement aux codes du deathmetal dans la pure pratique de ses débuts. Ici, pas de blast-beats, de plastique ni de technique superflue, Interment envoie la sauce à coups de rythmes tantôt tapageurs ou rentre-dedans, privilégiant à tout moment un riffing fracassant sur un grain de guitares sombre & râpeux si typique, mais non exempt des fameuses harmonies dont les suédois possèdent le secret.
Le premier morceau Eternal Darkness fixe ainsi une ambiance de mort dès les premiers accords, sur un accordage en Si tellement évocateur, rappelant bien sûr l'aura des Left Hand Path et Clandestine. Cette atmosphère si sombre trouve enfin toute sa signification dans le chant guttural de Johan Jansson, semblant surgir d'outre tombe.
Bien qu' Into the Crypts of Blasphemy contienne une série de titres assez conventionnels (on reste toutefois loin du deathmetal réchauffé de Mr Death sur Detached From Life), le disque parvient à hanter définitivement le deathster sur quelques perles, pour citer le fabuleux ralentissement au coeur de Night of the Undead suivi d'un solo saisissant de Johan Jansson, ou encore de Morbid Death au riffing particulièrement mortel, sans compter la cerise sur le gâteau, l'invincible Sacrificial Torment (un hymne à lui seul) et son atmosphère d'une densité à couper au couteau.
Convenu de prime abord, Into the Crypts of Blasphemy prend ainsi son ampleur au fil des écoutes, distillant un parfum de mort si délectable. Si l'ambiance du deathmetal suédois du début des années 1990 est ainsi idéalement restituée (à l'instar du Cycle the Werewolf des finlandais de Winterwolf), Interment parvient également à s'imposer par la force de son riffing, apportant de nouvelles lettres de noblesse à un style si sombre et si singulier.
Fabien.
25 août 2010