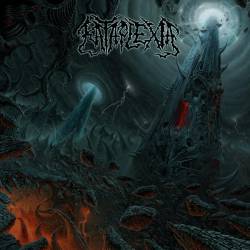 Formé en 2003, Kataplexia est basé en Finlande, bien que le trio composant la formation soit originaire d'Amérique du sud. Enregistré en ces terres scandinaves en début d'année 2008, Supreme Authority représente déjà la troisième réalisation du groupe, qui évolue toujours au sein de l'écurie espagnole Xtreem Music (Kronos, Hour of Penance) dirigée par le célèbre Dave Rotten. Le label gratifie cette fois l'album d'une superbe illustration de Georges Prasinis, déjà remarqué pour ses pochettes de Spawn of Possession ou d'Inveracity.
Plus long, plus consistant, et bien mieux enregistré que son prédécesseur Catastrophic Scenes, Supreme Authority envoie un brutal death très proche du dieu Suffocation. Les compositions du duo Artiga / Moreira sont en effet structurées autour de rythmiques complexes & assommantes, exécutées par le batteur de session Timo Häkinnen & le bassiste Mikael Da Costa, à grands renforts de double pédale et de blast-beats dosés, sur lesquelles viennent se greffer les plans enchevêtrés à deux guitares de Davi Moreira, à l'image des bons Unpredictable Spiritualism & Endless Suffering.
Supreme Authority renvoie ainsi une image proche de l'eternel Effigy of the Forgotten des dieux new-yorkais, à mi-chemin entre l'incision du récent Extermination of Millions des grecques d'Inveracity et la densité de l'imparable Psalms of the Moribound des maîtres allemand de Defeated Sanity. Kataplexia balance également quelques accélérations renversantes, sur un accordage très bas, durant lesquelles le guttural de Rodrigo se mue en des « grouinements » qui ajoutent quelques touches slamdeath fort appréciables. En outre, le groupe ponctue judicieusement ses morceaux de breaks écrasants (Anonymous Identities), de riffs dissonants & de soli accrocheurs (Circle of Sickness), permettant d'apporter un dynamisme accru à l'ensemble.
Parfaitement calibré et d'une densité remarquable, bénéficiant d'une production compacte, Supreme Authority surprend ainsi par ses subtilités techniques et la qualité de sa mise en place, présageant de nombreuses écoutes méticuleuses pour l'inconditionnel de brutaldeath alambiqué. En revanche, Kataplexia ne possède pas d'identité particulière, s'ajoutant dès lors aux nombreuses formations évoluant dans le style, sans possibilité d'émergence et d'accès parmi les ténors de la scène brutaldeath actuelle.
Fabien.
26 septembre 2008