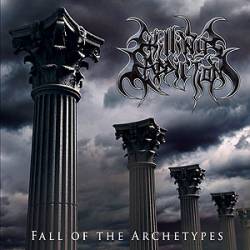 Sans être une référence durant la première partie des années 90, à l'instar de Nokturnel, Morpheus Descends ou Rottrevore, Killing Addiction figurait parmi les formations deathmetal sans compromis, particulièrement brutales & dangereuses, mais disparues prématurément. Le seul album en 1993, le terrible Omega Factor, suivi d'une split-tape (Dark Tomorrow) avec son homologue Eterne de Sade l'année suivante furent les uniques réalisations de ce combo destructeur issu de Floride.
Pourtant, à l'instar de Resurrection ou Brutality (séparé de nouveau depuis), le groupe prépare son retour durant les années 2000, annonçant dès l'année 2007 la suite d'Omega Factor, le bien nommé Fall of the Archetypes. Mais non seulement les affaires trainent en longueur, le disque ne sortant finalement qu'en avril 2010 chez le fameux label Xtreem Music (résurrecteur d'anciens combos tels Deteriorot), mais aussi le format annoncé n'est finalement qu'un mini-CD de six titres, comblant difficilement seize années d'absence. Pour rémédier à ce fâcheux contretemps, Dave Rotten (boss du label) a alors la judicieuse idée de juxtaposer les titres avec les cinq morceaux des sessions de Dark Tomorrow (sans la reprise de Kiss), EP pour le moins difficile à dégoter hier comme aujourd'hui.
En plus de quinze années, le deathmetal de Killing Addiction à certes évolué dans la forme, mais reste invariable dans le fond. On retrouve avec plaisir ces morceaux sauvages, gras et lourds, si caractéristiques de la bande de Chris Wicklein et des frères Bailey. Les growls de Pat Bailey ne sont peut-être pas aussi gutturaux que par le passé, mais restent empreints de cette même sauvagerie, oscillant entre un chant caverneux et des cris éraillés, tel que le groupe le pratiqua à partir de Dark Tomorrow.
Enregistré à l'ancienne par Juan Gonzales (ingénieur du Heretic de Morbid Angel), les titres sonnent de façon crue, primaire, soulignant le côté intraitable de Killing Addiction. En effet, il ne suffit que du titre éponyme en ouverture pour comprendre toute la radicalité de la formation. Pourtant, le groupe reste loin de lâcher un deathmetal aux structures ataviques, chaque titre étant suffisamment technique, finement pensé et varié pour rendre le tout riche au fil des écoutes. On se surprend ainsi à trouver les nombreuses subtilités dont les bons Leviathan et Less Than Human regorgent, sans compter le retoutable Silent War, au-delà d'une sauvagerie à toute épreuve.
Mais voilà, la leçon d'une vingtaine de minutes reste insuffisante pour envoyer définitivement le deathster au tapis, considérant les nombreuses années séparant Fall of the Archetypes du précédent enregistrement. De bonne facture intrinsèque, très proche d'Omega Factor si l'on ôte les vocaux éraillés de Pat, Dark Tomorrow comble justement ce manque avec difficulté, flanqué d'un enregistrement mettant moyennement la puissance de Killing Addiction en valeur.
Sur ce dernier point, le bilan reste ainsi en demi-teinte après une si longue absence, pour laquelle on était en droit d'attendre un peu plus de la part de Killing Addiction. Les nouveaux morceaux proposés risquent également de surprendre les deathsters découvrant le gang à travers cette réalisation, tant le côté brouillon et volontairement barbare puisse déconcerter de prime abord. Anecdotique pour la plupart, Fall of the Archetypes (avec sa superbe pochette) se recommande donc à mon humble avis à un public restreint, amateur d'un style figé dans les années 90 et particulièrement sauvage. Inutile de préciser mon adoration pour le groupe, ce qui reste tout à fait subjectif, j'en conviens.
Fabien.
26 août 2010