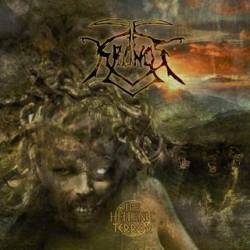 Le début de l'année 2007 de marque le retour de Kronos, impatiemment attendu depuis le bon Colossal Titan Strife paru à la fin 2003. Conscient du potentiel indéniable de la formation vosgienne, Xtreem Music permet au groupe de s'embarquer aux excellents studios polonais Hertz, sous la coupe des incontournables frères Wieslawski (Decapitated, Hate), et de bénéficier d'un artwork complet et particulièrement soigné.
Les espoirs du label sont largement confirmés, The Hellenic Terror surpassant son aîné en terme de précision et de maîtrise. Signées cette fois majoritairement par le tandem Grams / Richard, aidés du bassiste Tom, les compositions s'avèrent nettement plus percutantes, servies par une production incroyablement puissante, mettant impeccablement l'incision et la lourdeur des guitares en valeur.
Si The Road Of Salvation & Bringer of Disorder introduisent parfaitement l'album, A Huge Cataclysm & Divine Vengeance enfoncent carrémment le clou, à coups de rythmiques solides et de riffs pour le moins dévastateurs, soutenant le chant guttural de Kristof, qui possède désormais un coffre et une palette diablement impressionnants, apportant un relief considérable aux compositions.
Sans faux pas, Kronos signe ici un des albums majeurs du death hexagonal du moment, lui permettant de s'imposer parmi les meilleurs groupes français actuels, aux côtés de Benighted & Yyrkoon, ou encore de l'inattaquable Impureza, dont le premier album est attendu avec une impatience non dissimulée. Très professionnel, The Hellenic Terror propulse ainsi directement Kronos chez Neurotic Records, l'un des meilleurs labels du brutal death actuel, incluant quelques formations destructrices telles que Spawn Of Possession & Visceral Bleeding. A suivre de très près…
Fabien.
5 août 2008