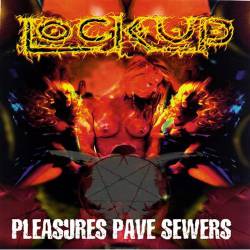 Tandis que Napalm Death perd progressivement sa fougue death grind, livrant un Words From The Exit Wound poussif et guère convaincant, Shane Embury & Jesse Pintado, visiblement en manque d'inspiration au sein de la bande de Birmingham, s'associent en 1998 avec le redoutable batteur Nick Barker. Le trio forme ainsi le projet parallèle Lock Up, dans l'intention manifeste de balancer un cocktail old school sans fioriture, à base de death, de grind et de crust, dans l'esprit de Repulsion, Brujeria & Disfear.
Les deux compères composent facilement 13 morceaux, puis rentrent dès l'année suivante aux Backstage Studios, sous la coupe de l'impitoyable Andy Sneap, enregistrant les pistes en deux petites journées, afin de conserver un côté cru et spontané. Peter Tägtgren, leader d'Hypocrisy, se charge quant à lui des growls gutturaux et de leur mise en boite, expédiés eux aussi en une seule journée. Remis dans les mains de la puissante écurie Nuclear Blast, Pleasures Pave Sewers répand ainsi son death grind en cette année 1999.
Débutant sur le bon After Life In Purgatory, l'album fixe d'entrée la couleur, sur le couple basse batterie infaillible de Nick & Shane, supportant les riffs nerveux de Jesse et les vocaux hargneux de Peter. Privilégiant une violence rythmique à toute forme de concession, Lock up déboite à coups de blast beats précis (Pretenters Of The Throne), de salves de riffs teigneux (Tripple Six) et de middle tempi écrasants (Slow Bleed Gorgon). Pleasures Pave Sewers ne contient toutefois pas de morceau véritablement marquant, n'échappant pas à une certaine linéarité, malgré ses 29 petites minutes.
Avec deux compositeurs issus de Napalm Death, Lock Up dégage en outre des relents Napalmiens trop marqués, multipliant plans & riffs similaires au groupe anglais, perdant ainsi beaucoup de personnalité. Par ailleurs, la spontanéité recherchée lors de l'écriture de Pleasures Pave Sewers s'efface au profit d'une production certes puissante, manquant en revanche de rugosité, mais aussi devant le côté clean & purement marketing de Nuclear Blast, en décalage avec la désinvolture affichée.
Album parfaitement emboité, mais sans titre particulièrement meurtrier, Pleasures Pave Sewers reste également un brin trop propre & trop calculé, ne dégageant pas l'essence grind réellement recherchée. Version turbo d'un Napalm Death fatigué en cette fin des années 90, proche de Nasum dans l'esprit, Lock Up dévaste ainsi sans problème, même si la technique de son homonyme suédois, bombardant avec une puissance grindcore impressionnante, demeure résolument plus efficace.
Fabien.
12 mai 2008