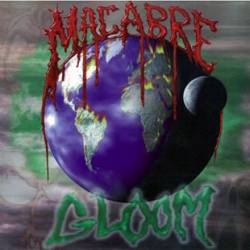 C'est en 1984 que Nefarious, Dennis the Menace et Corporate Death se réunissent, trois amis de l'état de l'Illinois unis pour le meilleur et pour le pire, puisque qu'aujourd'hui encore leur groupe baptisé Macabre n'a connu aucun changement de line-up, fait plutôt rarissime après tant d'années. Tenter une description de la musique du trio reste une sacrée mission, tant on pourrait relever aussi bien des éléments thrash, death ou grindcore. Retenons simplement que Macabre représente un peu tous ces extrêmes, un groupe à part de 'Murder Metal' comme ses membres se plaisent à l'appeler. De meurtres, il en est en effet pleinement question, les biographies de nombreux serial-killers et autres spree-killers n'étant plus un secret pour nos trois interprètes.
A partir de son EP paru en 1987, Macabre retient l'attention de l'écurie anglaise Vinyl Solution, qui regroupe à l'époque quelques formations british comme Bolt Thrower, Cerebral Fix ou Energetic Krusher. L'affaire se conclut par l'enregistrement et la sortie du premier album Gloom en 1989, condensé de moins de 30 minutes nous contant avec détachement des meurtres en tout genre, perpétrés par des auteurs à la personnalité particulièrement complexe comme Harvey Glatman, David Brom, Patrick Purdy ou Laurie Dann, autant de portraits brossés sur une vingtaine de morceaux.
Gloom, c'est une assise basse/batterie tapageuse et des guitares grésillantes, un ensemble résolument anarchique ne s'appuyant que sur ses propres codes. Nefarious et Corporate Death s'y partagent les parties vocales, tantôt grasses, gutturales, hystériques ou joyeuses, nous donnant cette sensation d'une schizophrénie de chaque instant et nous plaçant ainsi devant un panel de tueurs aux humeurs dangereusement versatiles. Rapide, hystérique & agressive, la première pièce Embalmer cède ainsi place à une suite tout aussi folle, à l'image de Trampled to Death, Holidays of Horror ou McMassacre servis par des refrains improbables au chant clair fonctionnant idéalement, ou encore du court Evil Ole Soul où nos artistes se prennent 20 secondes pour chanter au coin du feu.
Ne cherchons donc pas de technicité particulière ni de grands développements au cœur de Gloom, Macabre se contentant d'envoyer la purée sur des titres compris entre une à deux minutes, contant si joyeusement les péripéties de criminels en tout genre qu'il nous en glacerait parfois le dos. L'ensemble reste par ailleurs moyennement produit par Iain Burgess, producteur et ingénieur du son ayant plus particulièrement contribué à la définition d'un son punk brut durant les années 1980, cette approche étant largement palpable dans ce premier album de Macabre, mais difficilement compatible avec l'assise plus foncièrement metal du trio.
A l'image de ses confrères Pungent Stench ou Impetigo, Macabre fait figure d'électron libre au sein du paysage extrême de l'époque, volontairement cradingue et évoluant à sa convenance sans se soucier des modes ni s'embarrasser avec une technicité superflue. Si son premier album Gloom risque ainsi de rebuter plus d'un metalhead par sa construction simple, sa production timide et son côté fun, sans occulter cette désinvolture apparente, il peut aussi faire de nombreux addicts, tant son mélange extrême reste unique et son univers décalé. Un vrai truc de psychopathes.
Fabien.
23 août 2012