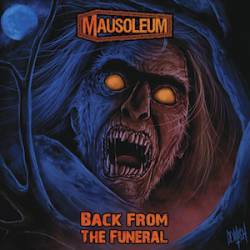 Certains deathsters connaissent peut-être le bassiste Rob Yench depuis ses participations chez Morpheus Descends et Incantation, notamment sur les redoutables Rituals of Infinity et The Infernal Storm. Le bonhomme est aussi depuis 2001 un des membres actifs de Mausoleum, formation nord américaine de old deathmetal racontant de poisseuses histoires de zombies tout comme Autopsy, Impetigo, Repulsion ou Death à leurs débuts. Cadaveric Displays of Ghoulish Ghastliness, premier album du groupe paru en 2003 pour le compte de Razorback, est d'ailleurs du pur Autopsy worship, aux forts relents de l'époque bénie de Retribution for the Dead et Mental Funeral.
En 2008, le quatuor retourne dans ses propres studios pour la mise en boite de Back from the Funeral, difficilement disponible en CD promotionnel. Le groupe comprend alors le batteur & growler Rick Boast, Rob Yench et Phil Newbaker, ainsi que le nouveau guitariste Craig Stiles remplaçant Adam Kegg, qui a toutefois composé pas mal de morceaux avec ses acolytes. Le décès du guitariste Phil Newbaker stoppe toutefois les activités de Mausoleum, jusqu'à cette année 2011 où le groupe refait surface chez Razorback Records avec la sortie de son second album.
Bien qu'aucune mention ne soit précisée sur ce nouvel album, hormis le lieu d'enregistrement habituel de Mausoleum, la présence de Phil Newbaker à la guitare indique indirectement qu'il s'agirait de l'enregistrement de 2008 remis au goût du jour avec une nouvelle illustration collant idéalement au contenu. Bref peu importe au fond, tant le deathmetal du quatuor de Pennsylvanie reste figé entre les années 80 et 90's, à mi-chemin entre Autopsy et Impetigo.
Si Cadaveric Displays of Ghoulish Ghastliness sonnait souvent comme un copier-coller du culte Mental Funeral, son jeune frère Back from the Funeral se distingue plus particulièrement. On retrouve cependant ces morceaux directs, articulés comme un vieux deathmetal aux relents glauques et parfois doomy, ces growls putrides et profonds, et cet enregistrement jouissif à l'ancienne méthode, tout aussi rétro mais plus percutant cette fois-ci. Sans être non plus exceptionnels, ces nouveaux titres sont plus captivants, à l'image génial The Baron of Terror ou du tout aussi redoutable Consumed by Darkness, mon coup de cœur de ce second album.
Dans la lignée de ces vieux groupes de deathmetal putrides et de ces enregistrements analogiques de la grande époque, Back from the Funeral remplit parfaitement son contrat. Sans changer son fusil d'épaule, Mausoleum progresse entre deux albums pour la plus grande joie des deathsters nostalgiques de cette ancienne époque. La situation a toutefois pas mal changé en huit années, tellement de nouveaux groupes s'étant depuis engouffrés dans cette veine, qu'il rendent de plus en plus difficile l'extraction du bon grain de l'ivraie et saturent le style plus qu'autre chose.
Fabien.
4 novembre 2011