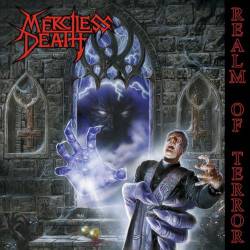 En ce mois de mai 2008, fidèle à son label Heavy Artillery, Merciless Death revient battre les tympans des thrashers, déjà sous le joug d'Evil in the Night, son premier et précédent assaut. Les frères Torres et Dan Holder abandonnent cette fois les zombies d'Edouard Repka, pour une illustration tout aussi travaillée d'un autre maître, Andreas Marshall, mettant en scène un prêtre aspiré par les forces obscures.
Realm of Terror déboulonne d'entrée avec The Abyss, une intro percutante lançant parfaitement le thrash intraitable de Merciless Death. L'album bénéficie en outre d'un enregistrement puissant & équilibré, qui apporte un son incisif aux guitares, tout en respectant la rugosité propre à la formation californienne. Ainsi, la force de son thrash ajoutée à la qualité de la production forment un cocktail détonnant, où se succèdent rythmiques entrainantes, guitares assassines, breaks tranchants et chant teigneux, tel l'impitoyable The Gate et ses rafales de riffs renversants.
Conservant un thrash particulièrement hargneux, Merciless Death digère également mieux ses influences et soigne parallèlement ses ambiances, à l'image de l'interlude Fall To The Pentagram, lui permettant d'épaissir judicieusement son style. Possédant la vitesse de Strappado (Slaughter), embrassant l'aura sombre de None Shall Defy, Urm The Mad & Seven Churches (Infernal Majesty, Protector, Possessed), dégageant des accents Slayeriens délicieux sur les soli emballés de Dan Holder, Realm of Terror synthétise ainsi l'esprit thrash 'evil' des années 80 avec une justesse remarquable.
Aussi rugueux & percutant que son prédécesseur, aux colorations rétro tout aussi exquises, Realm of Terror balance 28 minutes de thrash dense & authentique, risquant d'emballer le rythme cardiaque de nombreux thrashers, béats devant son atmosphère endiablée et l'efficacité de ses riffs. S'imprégnant parfaitement de l'essence du thrash des eighties, tout en affirmant sa pleine personnalité, Merciless Death devient désormais aussi précis et meurtrier qu'une balle.
Fabien.
23 juin 2008