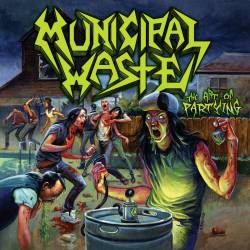 Thrashers, ressortez vos baskets, votre veste en jean et vos patchs, puisque deux ans après le terrible Hazardous Mutation, les descendants d'Anthrax, DRI & Nuclear Assault reviennent envoyer la purée, pour votre plus grand bonheur. Pour ceux qui ne connaissent pas encore Municipal Waste, il s'agit d'un cocktail explosif à base de thrash, de hardcore, d'old school, de bière et de bonne humeur, comportant un côté très metal.
Nos américains ne changent pas une recette gagnante, proposant de nouveau une pochette bien marrante, ainsi que des multiples photos sympas et pas prise de tête. Côté line up & musique, pas de changement également ; les compositions sont courtes, défilent toujours sur un rythme effréné, agrémentées d'intros entraînantes (Beer Pressure) et de mosh parts à la Anthrax / S.O.D accrocheuses (Sadistic Magician). Le point fort des 'Waste' réside en effet dans cette juxtaposition de passages hyper rapides et de breaks rythmés, qui délivre ainsi un maximum d'énergie, déclenchant inconsciemment les headbangs les plus fous.
Sous leurs airs désinvoltes, Les 'Waste' sont de surcroît très talentueux, balançant des rythmiques très carrées et des riffs tranchants, joués avec une grande dextérité, sans chercher toutefois la démonstration. En plus, la voix énervée de Tony Foresta est très entraînante, expédiant un débit de mots à la seconde plutôt impressionnant. Pour ne rien gâcher de la fête, le son est vraiment impeccable, avec des guitares à la fois lourdes et incisives, apportant beaucoup de punch et de relief aux compositions.
Municipal Waste est la sensation thrash US du moment et, même s'il revient avec un Art Of Partying prévisible, reprenant là où Harzardous Mutation nous avait laissé, il propose une musique toujours percutante, à prescrire à tous les thrashers qui désirent simplement passer un bon moment et s'éclater tranquillement la tête. Enfin, pour les réfractaires qui trouvaient les précédentes réalisations d'une durée un peu trop courte, The Art of Partying dure cette fois 32 minutes, et même 35 minutes pour la version limitée comprenant deux titres bonus très sympas.
Fabien.
20 juin 2007