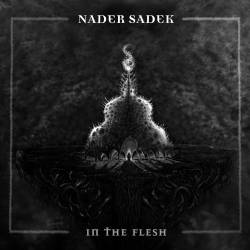 Artiste new yorkais d'origine égyptienne, Nader Sadek est un artiste réputé notamment pour ses masques et sculptures, mais aussi pour ses décors et effets visuels créés à l'occasion des prestations des blacksters de Mayhem ou du groupe drone Sunn O))). Ayant plus d'une corde à son arc, le créateur met également sur pied un projet musical d'obédience deathmetal, en collaboration étroite avec le growler Steve Tucker, ancien frontman de Morbid Angel.
Le projet abouti très vite à l'élaboration du premier album de la formation simplement nommée Nader Sadek, grâce à l'implication de Rune Eriksen (Blasphemer) aux guitares, connu notamment pour la seconde ère de l'emblématique Mayhem, mais aussi de Flo Mounier derrière les fûts, l'un des batteurs les plus rapides et techniques des années 90, pour citer sa prestation cataclysmique sur l'indomptable None So Vile de Cryptopsy en 1996. On notera enfin la participation de nombreux invités prestigieux sur ce premier effort baptisé In the Flesh, à l'image de Nick McMaster (Krallice) signant toutes les parties de basse, ou encore de la présence d'Attila Csihar (Mayhem), Travis Ryan (Cattle Decapitation), Tony Norman (ex-Monstrosity) ou Destructhor (Morbid Angel).
Largement pensé, capturé et mis en image par notre artiste new yorkais, sans occulter la collaboration notoire de Steve Tucker durant l'écriture et l'enregistrement (le mixage lui revenant entièrement), In the Flesh aligne donc un line up particulièrement alléchant, lui valant une signature directe chez l'écurie française Season-of-Mist, au magnétisme sans cesse grandissant.
La bande de Nader Sadek nous envoie en cette année 2011 un deathmetal brutal et sombre, s'inscrivant dans la grande tradition, à grands coups de riffs purs et tranchants, servis par les rythmes en béton armé de Flo Mounier, les lignes de guitares précises & incisives de Rune Eriksen et le chant guttural pur & puissant de Steve Tucker. Chaque morceau renferme une force et une densité incroyable, mettant notamment sur les genoux lors de l'enchainement impitoyable de Soulless, Mechanic Idolatry et Sulffer, sans oublier leurs soli terribles & décharnés signés Mike Lerner, Tony Norman et Destructhor. Et que dire de l'instrumental Nigredo in Necromance aux atmosphères si intenses, renforcées par la courte narration en langue arabe du leader, clôturant l'oeuvre sur un final profond et tellement entêtant. On peut en revanche regretter la courte durée d'In the Flesh ne dépassant pas la demi-heure, se résumant à sept morceaux d'obédience deathmetal et trois courts interludes se mariant toutefois impeccablement à l'ensemble.
Difficile d'écouter In the Flesh sans penser à la période Morbid Angel du temps de Steve Tucker, tant la ressemblance avec Formulas, Gateways et Heretic est parfois frappante, bien que l'ambiance dégagée soit assez personnelle, sans occulter l'excellence et le feeling particulier des interprètes. A l'heure où le géant floridien semble s'écarter sensiblement de son deathmetal originel (avec un brio restant à démontrer), Nader Sadek prend donc directement un fauteuil de choix en cette année 2011, non loin de Nile et Hate Eternal. Reste au groupe à prouver sa force sur le moyen terme et à développer une pleine identité, mais aussi à lâcher des albums d'une durée plus conséquente, tant le deathster reste sur sa faim après une si courte mais si intense démonstration.
Fabien.
4 juin 2011