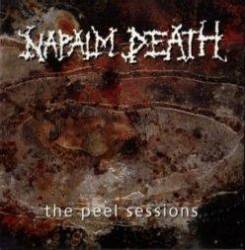 Les fameuses Peels Sessions enregistrées en conditions Live dans les locaux de la BBC ont souvent été de grands moments durant lesquels les groupes se sont lâchés, au point d'en ressortir avec l'un de leur meilleur enregistrement, pour citer les passages mémorables de Doom, Electro Hippies, The Stupids ou Doctor and the Crippens. Ces instants magiques de la scène HC/grind britannique sont bien sûr associés à la venue de deux formations parmi les plus extrêmes de la seconde partie de eighties, Extreme Noise Terror et Napalm Death, emmenées par le batteur Mike 'Tornado' Harris, dont la vitesse et la puissance à la double grosse caisse renversait littéralement l'assistance. Napalm Death connait quand à lui trois passages dans les locaux de Radio1, en septembre 87 et mars 88 avec le line-up mythique composé de Harris, Embury, Steer et Dorrian, puis en août 90 autour de Harris (Mick & Mitch), Embury, Greenway et Pintado.
La première session composée de douze morceaux est la plus courte, ne dépassant pas les six minutes, témoignage du cataclysme ayant traversé les locaux de la BBC durant l'enregistrement. On y retrouve Napalm Death complètement survolté, méritant amplement l'appellation 'The Fastest Band in the World' que la critique britannique lui attribuait à l'époque, sans compter le chant gras et totalement décharné de Lee Dorrian. Si cette séance fait bien sûr la part belle au premier LP (et renferme fatalement You Suffer, le morceau le plus court de l'histoire), on y trouve aussi en avant-première trois titres du futur album, comme le trucidant Lucid Fairytale.
Très proche de la première, la session suivante reprend très majoritairement des morceaux de Scum, puisque seul World Apart appartient au terrible FETO à paraitre en septembre 88. L'intérêt de cette séance réside par ailleurs dans la huitième piste, regroupant quatre reprises tonitruantes issues du répertoire des états-uniens de Siege et des nippons de SOB, deux influences clairement revendiquées par le line-up de l'époque, les morceaux Walls et Raging In Hell dégageant une puissance renversante dans les mains de Napalm Death, qui ne pouvait rendre meilleur hommage.
La dernière séance, avec le nouveau line-up, comprend logiquement une majorité de compositions de FETO, où l'on retrouve enfin des Unchallenged Hate ou From Enslavement servis par une production incisive, qui manquait sur le second album enregistré aux Birdsong Studios. Si le quintette joue enfin le fabuleux titre éponyme de son premier album, il nous offre aussi en avant-première le morceau phare de son EP Suffer the Children, qui deviendra instantanément un classique.
Reliés par ce même tourbillon dévastateur, quoique les deux premières séances renferment en plus ce sentiment de folie incontrôlable, les Peel Sessions de Napalm Death restent une expérience unique et sacrément intense dans sa carrière. Chaque titre y trouve une seconde vie, d'une part grâce à l'émulation qui règne dans les locaux, l'osmose du moment, l'envie d'être pied au plancher, et d'autre part grâce aux ingé-son ayant idéalement capté la force du quatuor et canalisé cette débauche d'énergie pure. Si l'hyper-vitesse et cette condition en Live donnent parfois une sensation de chaos pas évidente à encaisser sur les deux premières sessions, elles renforcent naturellement l'intensité délivrée par Napalm Death, qui prend ici une nouvelle dimension. Et quel bonheur de retrouver la moitié des morceaux de FETO avec une production enfin digne de leur puissance.
Fabien.
11 avril 2013