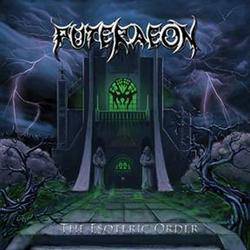 Répondant au nom de Puteraeon, juxtaposition du latin puter (putride) et de l'anglais aeon (éternité) pour les esprits francophones mal placés voyant dans son préfixe les professions libérales du bois de Boulogne, cet énième groupe de deathmetal de Suède se forme récemment en 2008 autour de Jonas Lindblood et Anders Malmström. Ses interprètes sont toutefois de vieux briscards ayant officié au sein de formations telles qu'Inverted, Thorium ou Nominon.
En trois démos, Puteraeon parvient à convaincre le bon label allemand Cyclone Empire, déjà détenteur des deathsters d'Evocation, Demonical ou Funebrarum dans son catalogue, et enregistre dans la foulée lui-même son premier album, tout en confiant le mixage aux mains expertes d'Andy LaRocque, guitariste renommé du groupe de heavymetal King Diamond. Piochant allégrement dans le répertoire des premières démos, le bien nommé The Esoteric Order est paré d'une illustration dans la droite lignée old deathmetal qui anime le groupe depuis ses débuts.
The Esoteric Order démarre très fort sur des Devil's Reef, Graverobber et Coma bâtis sur des rythmes entrainants, un riffing accrocheur et un guttural d'outre tombe, aérés en leur coeur par des breaks et soli savamment placés. On retrouve ainsi largement cet esprit à la old Entombed, Dismember et Grave qui avaient renversés tant de deathsters durant les années 90. A ce titre, le son de l'album possède ce grain de guitare froid & granuleux si typique de l'époque, tout en possédant un côté puissant & moderne qui inscrit notre groupe dans l'ère du temps.
Si The Esoteric Order recèle ensuite plein de bonnes surprise, pour citer le bon Experience Zombiefication à l'introduction doomy & prenante ou encore le génial instrumental The Innsmouth Insanity lançant une guitare acoustique sombre pour de belles montées en puissance, il ne renferme toutefois pas toujours cette même intensité, s'étendant de surcroît sur treize morceaux en 54 minutes assez longues à digérer aux premières écoutes. Le disque se clôt en revanche sur le terrible The End of All, parfait équilibre entre passages lents, riffs meurtriers et leads poignantes pour un final tout en sensibilité.
Inscrit dans une démarche assez proche de ses collègues de Nominon & Kaamos, Puteraeon s'ajoute ainsi aux nombreuses formations deathmetal désirant retrouver l'essence des premières années du style suédois, sans toutefois débarquer avec un son vieillot. Reprenant fidèlement les codes du genre, The Esoteric Order manque ainsi de personnalité mais se bonifie en revanche au fil des écoutes, loin d'un simple produit superficiel & stéréotypé à consommer en quelques instants. Deathster, laisse-toi peu à peu enivrer par la saveur de morceaux tels que Graverobber et The End of All et tu y reviendras forcément.
Fabien.
25 mars 2011