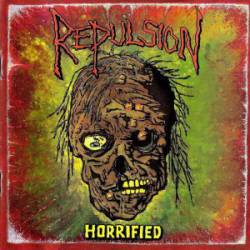 Alors que le thrashmetal vit ses grands moments gloire en cette année 1986, Repulsion issu du Michigan redéfinit quant à lui les limites de la brutalité et de la rapidité, en sortant la tape-album 'Slaughter Of The Innocent' pour un budget de 300$, distribué en trading aux quatre coins du globe. Initialement formé par Matt Olivio et Scott Carlson en 1984 sous le nom de Genocide, qu'il conserve jusqu'en 1986, le groupe se fascine pour les thèmes gores et horrifiques, et entend bien repousser de quelques crans les limites dans l'extrême. Nos deux acolytes se rapprochent notamment de Chuck Schuldiner (Death) qui innove également dans ce même créneau. Mais l'approche volontairement crade & destroy recherché par le duo ne s'accorde pas avec la vision plus professionnelle entretenue par Chuck à long terme.
Poursuivant de leur côté, Carlson & Olivio finalisent leur line-up avec l'arrivée du second guitariste Aaron Freeman et du batteur Dave Hollingshead, tout en demandant au nouveau frappeur d'accroitre significativement la rapidité de son jeu de batterie. Ce dernier met alors au point avec les deux leaders un rythme cataclysmique basé sur un tapage sans relâche sur la cymbale afin d'obtenir cette cadence effrénée, s'opposant donc au mitraillage sur la caisse claire développé dans les mêmes temps par Mick Harris de l'autre côté de l'Atlantique au sein de Napalm Death, que le leader anglais baptisera le blast-beat.
C'est ainsi que fort de 18 titres, le quatuor rebaptisé Repulsion entre en studios en 1986 pour les sessions de son premier album, ressortant avec une K7 qui se distribuera en trade durant cette seconde partie des eighties, tout comme Abominations of Desolation de Morbid Angel paru sous ce même format, deux enregistrements gagnant une dimension mythique au fil des mois. Ainsi, quelques petites années plus tard, lors de l'explosion du deathmetal et du grindcore grâce aux détonateurs Scream Bloody Gore, Leprosy, Scum, F.E.T.O. ou Reek of Putrefaction (Death, Napalm Death, Carcass), on reparle fatalement de Repulsion jusqu'à que Jeff Walker & Bill Steer (Carcass) prennent le groupe sous leur aile avec leur petit label Necrosis. Remixé et rebaptisé Horrified, le premier album de Repulsion bénéficie enfin d'une distribution à grande échelle, notamment grâce à la force de l'écurie Earache (Napalm Death, Carcass, Morbid Angel, Bolt Thrower) qui prend en main tout le marketing du petit label de Steer & Walker.
Le monde découvre enfin l'album de Repulsion, groupe dejà culte dans l'underground.
Horrified est l'incarnation même du deathmetal crade et brutal, proposant 18 titres au concentré de blast-beats quasi ininterrompus, dans une ambiance incroyablement destroy. La batterie de Dave Grave conserve un rythme majoritairement effréné, entrainant la basse ronflante de Carlson et les guitares de Freeman & Olivio saturées à souhait, sans occulter les vocaux de Scott Carlson foncièrement crasseux. Ici pas de fioriture, Repulsion déboulonne tout sur son passage, puis d'un coup, au détour d'un break (the Lurking Fear, le terrible morceau éponyme), d'un début (Festering Boils, Driven to Insanity), ou de son seul titre entièrement middle tempo (le terrassant Black Breath), il balance des rythmes entraînants à s'en dévisser la tête. Au final, écoute après écoute, après avoir enfin franchi le mur du son, chaque titre de se détache, prend naturellement sa place et son identité, et chaque bon deathster comprend enfin qu'il possède un album culte entre les mains.
Au même titre que Possessed, Master, Death, Morbid Angel, Napalm Death & Terrorizer, Repulsion est considéré à juste titre comme l'un des précurseurs des scènes deathmetal & grindcore actuelle. Il a également donné naissance, à l'instar de D.R.I. ou Napalm Death, aux blast-beats si chers de nos jours à nombre de formations extrêmes. Malheureusement, hormis quelques brèves apparitions, le groupe n'est jamais vraiment revenu sur le devant de la scène. Bref, Horrified est l'album à posséder d'urgence. Je conseille plus particulièrement la réédition remasterisée (élargissement du spectre sonore) de 2002 paru chez Relapse Records, qui gomme non seulement ce vrombissement basse fréquence qui était assez désagréable sur la première version, mais apporte aussi plus de profondeur sans dénaturer l'essence même d'Horrified, toujours aussi crade, culte et destroy après tant d'années. Fuck !
Fabien.
2 avril 2007